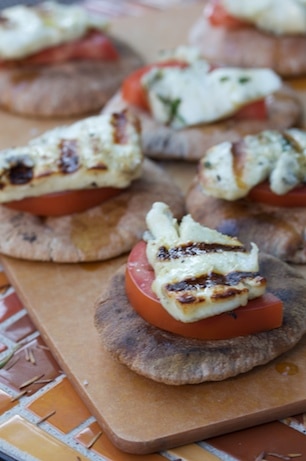 Supper Club: Grilled Cheese and Tomato Stacks
This post may contain affiliate links. Thank you for supporting the brands that keep me creative in my tiny kitchen!
Our Supper Club took a bit of a hiatus for most of the summer, but we're back on track now. This month's theme was grilling. The weather was perfect (one of the only nice days this summer!) so we were able to eat outside.
I've been wanting to try halloumi cheese for a while now, and when I went to buy it at Whole Foods, I found out that I got the last package, and they wouldn't be ordering more until next summer since it's a grilling cheese. This recipe was really simple but tasty. The combination of flavors was perfect for a summer meal. The only issues I had were that the recipe didn't call for enough oil to coat the cheese, so I added more, and it's kind of tough to work with cheese on the grill – I think the trick is to have the heat up high enough to get a quick sear on each side. If it's too low, it'll melt before it chars. This is definitely something I'll try out again next summer.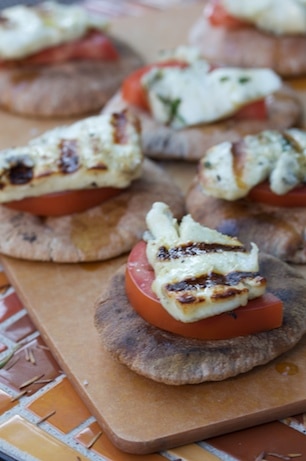 Grilled Cheese and Tomato Stacks
Bon Appétit August 2009
Makes 4 to 6 servings
Halloumi is a pleasantly salty Greek cheese that grills well.
1 teaspoon extra-virgin olive oil
1 teaspoon finely chopped fresh mint
¼ teaspoon ground cumin
½ lb. Halloumi cheese,* cut into 1/4-inch-thick slices
16 white or whole wheat mini pitas
2 ripe medium tomatoes, cored, halved, cut into 1/4-inch-thick slices
Sea salt
Whisk 1 teaspoon oil, mint, cumin, and pinch of freshly ground black pepper in medium bowl to blend. Add cheese slices; toss to coat. Marinate at room temperature at least 30 minutes and up to 2 hours. DO AHEAD: Can be made 2 days ahead. Cover; chill.
Prepare barbecue (medium-high heat). Grill pitas until warm and grill marks appear, about 1 minute per side; transfer to serving plate. Grill cheese until grill marks appear and cheese begins to melt, about 1 minute per side. Stack each warm pita with slice of tomato and cheese. Drizzle with oil and sprinkle tomatoes lightly with sea salt.
* Available at some supermarkets and at specialty foods stores, natural foods stores, and Greek markets.
MacGourmet Rating: 5 Stars