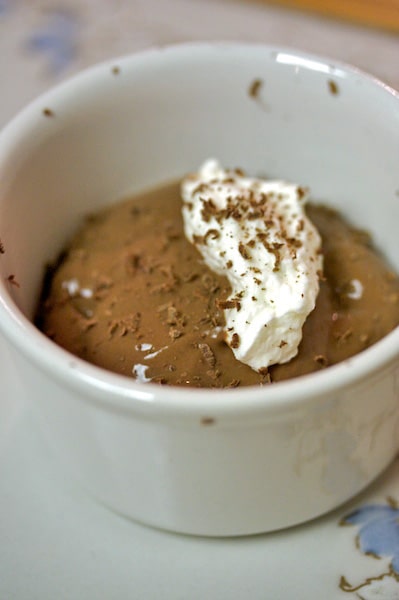 Supper Club: Dark Chocolate Mousse
This post may contain affiliate links. Thank you for supporting the brands that keep me creative in my tiny kitchen!
This month's Supper Club theme was "Foods Served in Bowls" – it was going to be all soups, but we decided to open it up a bit. Dino made this mousse recipe that I found on Food Network's website. It was really dark and delicious. The only issue is that it doesn't make enough whipped cream, but I guess that's partially because it's a healthy recipe. The tofu gives it a great texture, and the deep chocolate flavor is wonderful!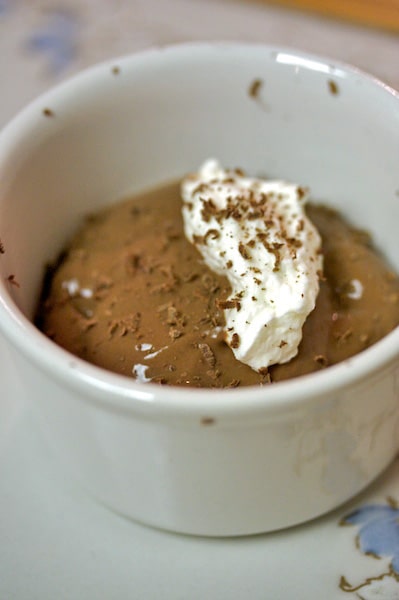 Dark Chocolate Mousse
Ellie Krieger
Yield: 5 servings
Prep 20 min
Cook 1 hr 0 min
Total: 1 hr 20 min
1 (12.3-ounce) package silken tofu, drained
3 ounces high quality bittersweet chocolate, finely chopped
1/4 cup unsweetened cocoa powder, preferably Dutch-processed
1/4 cup water
1 tablespoon brandy
1/2 cup plus 1/2 teaspoon superfine sugar
1/4 cup heavy cream
1 1/4 teaspoons shaved chocolate
In a blender or food processor, puree the tofu until it is smooth.
Put the chopped chocolate, cocoa powder, 1/4 cup water and brandy in a saucepan or heat-proof bowl fitted over a pot containing 1-inch barely simmering water. Stir frequently, until melted and smooth. Remove from heat. Mix in 1/2 cup of sugar, a little at a time, until smooth.
Add the chocolate mixture to the tofu and puree until smooth and well blended. Spoon the mousse into serving dishes, cover and refrigerate for at least 1 hour.
Whip the cream with a beater. When the cream is almost completely whipped, add the remaining 1/2 teaspoon of sugar and finish whipping. Top each serving with a dollop of whipped cream and a sprinkle of chocolate shavings and serve.
Yield: 5 servings (serving size 1/2 cup of mousse, 1 tablespoon whipped cream and 1/4 teaspoon shaved chocolate)
MacGourmet Rating: 4 Stars