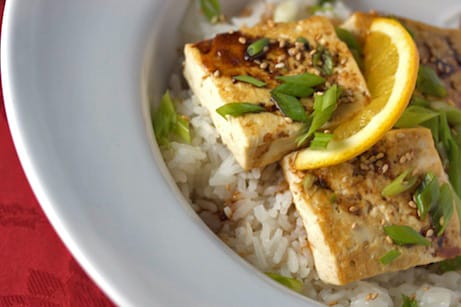 This post may contain affiliate links. Thank you for supporting the brands that keep me creative in my tiny kitchen!
This was another tasty tofu dish. I really like the combination of citrus and soy, and the green onions on top give it some great onion flavor. I bought a big bottle of toasted sesame seeds a while ago, and it works out perfectly for recipes like this. Toasting them isn't difficult, but some nights it just seems silly to dirty another pan to toast them. Be careful if you're saving some of the glaze for leftovers – it can solidify on the bottom of the pan if you don't put it into another container before it cools off.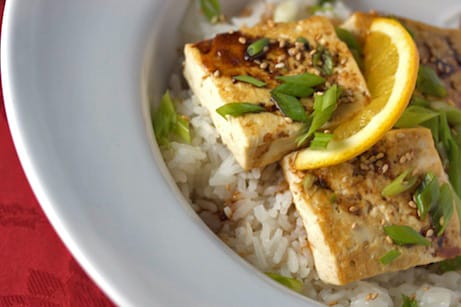 Soy-Glazed Tofu
Cooking Light August 2009
Added sodium and sugar tame seasoned rice vinegar's tartness, making a nice counterpoint to sesame oil, sweet orange juice, and aromatic orange rind. Drizzle the tofu with the flavorful pan sauce to serve; the sauce bolsters plain rice noodles tossed with snow peas, carrots, and bell pepper for a smart entrée.
Yield 4 servings (serving size: 3 triangles)
1 (12-ounce) package firm tofu, drained and cut crosswise into 6 slices
3 tablespoons seasoned rice vinegar
2 tablespoons fresh orange juice
2 tablespoons low-sodium soy sauce
1 tablespoon brown sugar
¼ teaspoon grated orange rind
1 teaspoon dark sesame oil
2 tablespoons thinly diagonally sliced green onions
½ teaspoon sesame seeds, toasted
1. Cut each slice of tofu in half diagonally. Place tofu slices on several layers of paper towels, and cover tofu with additional paper towels; let stand 15 minutes, pressing down occasionally.
2. Combine vinegar and next 4 ingredients (through rind) in a small saucepan; bring to a boil. Reduce heat and simmer, uncovered, 6 minutes or until thick and syrupy. Heat oil in a large nonstick skillet over medium-high heat. Arrange tofu slices in pan in a single layer; sauté 5 minutes on each side or until golden brown. Remove from heat; pour vinegar mixture over tofu to coat. Sprinkle with green onions and sesame seeds. Serve immediately.
Wine note: Tofu works with just about every wine, but given the flavors of soy sauce, orange, and sesame, a refreshing white is in order. In particular, sesame and orange both work magnificently with unoaked chardonnay. My favorite: St. Supery Oak Free Chardonnay from Napa Valley, California. The 2008 is $25. —Karen MacNeil
Nutritional notes:
Calories: 132
Fat: 6.5g (sat 1.2g,mono 1.5g,poly 3.6g)
Protein: 8.9g
Carbohydrate: 9.2g
Fiber: 0.1g
Cholesterol: 0.0mg
Iron: 1.8mg
Sodium: 419mg
Calcium: 68mg
MacGourmet Rating: 4 Stars