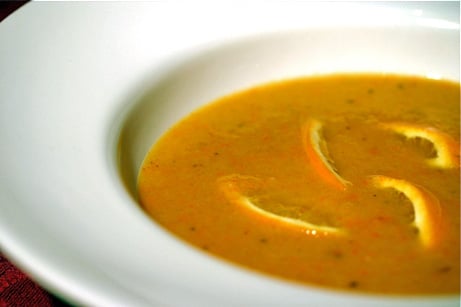 Roasted Orange-and-Bell Pepper Soup
This post may contain affiliate links. Thank you for supporting the brands that keep me creative in my tiny kitchen!
I'm still not feeling well, so I wanted to make another soup. This one is really nice and different, and even my soup-hating husband enjoyed it. It's more like a bisque, so that's why he says it was good. Anyway, it's a unique combination of ingredients, and now that I know how easy it is to roast peppers in the oven, I'll do it more often! I thought it didn't work in electric ovens for some reason, but it did!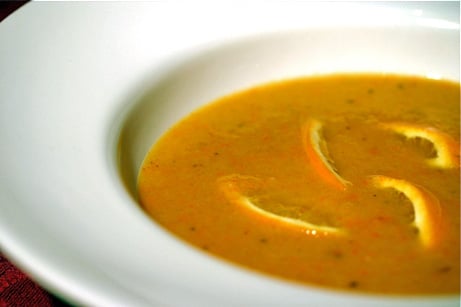 Roasted Orange-and-Bell Pepper Soup
Cooking Light November 1996
Tip: Make up to two days ahead; cover and chill. Reheat over low heat.
1 large navel orange
1 large yellow bell pepper
2 teaspoons margarine
½ cup chopped onion
⅓ cup grated carrot
1 ½ teaspoons all-purpose flour
1 cup fat-free chicken broth
½ cup 1% low-fat milk
⅛ teaspoon salt
⅛ teaspoon pepper
⅛ teaspoon paprika
Quartered orange slices (optional)
Cut orange in half crosswise; slice about 1/4 inch from bottom of each half so they will sit flat. Cut bell pepper in half lengthwise; discard seeds and membranes. Place orange halves, cut side up, and pepper halves, skin side up, on a foil-lined baking sheet; flatten peppers with hand. Broil 15 minutes or until blackened.
Place pepper halves in zip-top plastic bag; seal. Let stand 20 minutes; peel. Squeeze juice from orange over a bowl to equal 1/4 cup; discard oranges. Place peppers and orange juice in a food processor or blender; set aside.
Heat margarine in a small saucepan over medium heat. Add onion and carrot; sauté 12 minutes or until carrot is tender. Add onion mixture to food processor; process until smooth.
Combine flour, broth, and milk in saucepan; stir with a whisk until blended. Place over medium heat; bring to a boil. Reduce heat; add pepper mixture, salt, pepper, and paprika; simmer 10 minutes, stirring occasionally. Garnish with oranges, if desired.
Yield: 2 servings (serving size: 1 1/4 cups)
Nutritional notes:
CALORIES 118 (30% from fat); FAT 3.9g (sat 0.8g,mono 1.1g,poly 0.8g); IRON 1.1mg; CHOLESTEROL 2mg; CALCIUM 96mg; CARBOHYDRATE 16.4g; SODIUM 270mg; PROTEIN 3.9g; FIBER 2.4g
MacGourmet Rating: 4 Stars