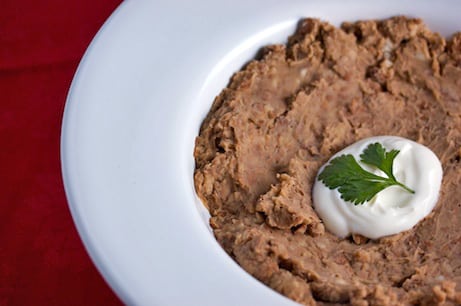 Refried Beans Without the Refry
This post may contain affiliate links. Thank you for supporting the brands that keep me creative in my tiny kitchen!
These refried beans don't look pretty, but they were really tasty! They're a snap to throw together in the slow cooker, and you can make them whatever consistency you like, depending how much liquid you add back in at the end. I only have two minor comments – one is that I think I like the flavor of bacon in my refried beans. I think that the Mexican restaurants that I love having frijoles from use a big hunk-o-pork to give it an extra dimension of flavor. My other comment is that the beans taste slow-cooker-y. I love using my slow cooker, but I feel like certain dishes – especially those using beans – have a certain taste and I'm not crazy about it. I think this would be fun to try in the pressure cooker, too!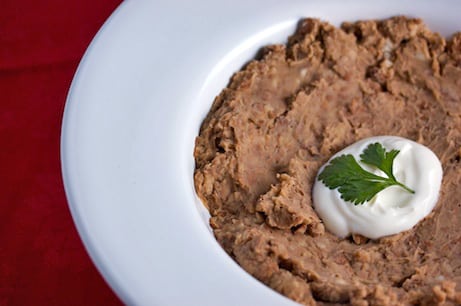 Refried Beans Without the Refry
allrecipes.com – CHEFCLAUDE
"Refried beans are simple to make when cooked in a slow cooker. This recipe will yield flavorful, fat-free refried beans seasoned with garlic, jalapeno, and cumin."
PREP TIME 15 Min
COOK TIME 8 Hrs
READY IN 8 Hrs 15 Min
1 onion, peeled and halved
3 cups dry pinto beans, rinsed
½ fresh jalapeno pepper, seeded and chopped
2 tablespoons minced garlic
5 teaspoons salt
1 ¾ teaspoons fresh ground black pepper
⅛ teaspoon ground cumin, optional
9 cups water
1. Place the onion, rinsed beans, jalapeno, garlic, salt, pepper, and cumin into a slow cooker. Pour in the water and stir to combine. Cook on High for 8 hours, adding more water as needed. Note: if more than 1 cup of water has evaporated during cooking, then the temperature is too high.
2. Once the beans have cooked, strain them, and reserve the liquid. Mash the beans with a potato masher, adding the reserved water as needed to attain desired consistency.
MacGourmet Rating: 4 Stars