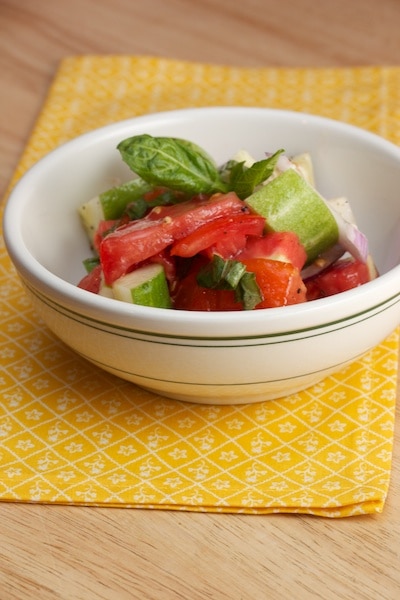 Quick Garden Tomato and Cucumber Salad
This post may contain affiliate links. Thank you for supporting the brands that keep me creative in my tiny kitchen!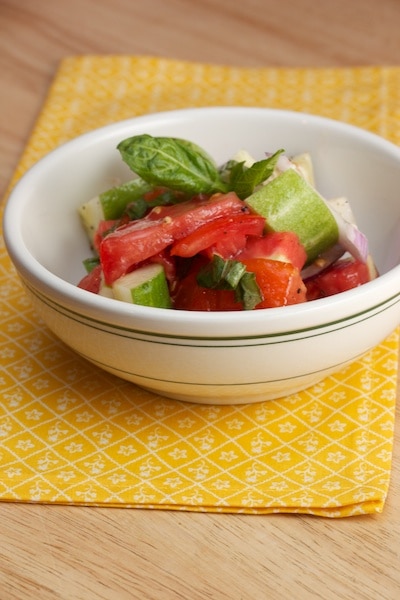 I was on location for a photo shoot today, and I wasn't planning to cook anything for dinner. During the crew's lunch break, I ran across a pie shop called Michele's Pies that had a sign for a free pie tasting. I couldn't resist that, so I went in to see what it was all about. They had samples of chocolate banana bread and strawberry rhubarb pie. While I was sampling, I noticed that the owner had been on Throwdown with Bobby Flay! I didn't see that episode, but I saw the autographed sign on the wall (amidst a slew of other awards that she's received) with a note from Bobby saying that she had amazing pumpkin pie. So I knew I had to buy something. I got a mini peach pie for dessert, and an interesting looking Australian beef pie to throw in the oven for dinner.
By the time I got home, the frozen beef pie was thawed out, so I followed the directions on the box, and dinner was ready in about an hour! I didn't feel like putting too much effort into a side dish, but I needed to have something other than a pie-o-meat. Luckily, a friend had given us some tomatoes and cucumbers from his garden, so I made a very quick side salad to go with it. I chopped up those veggies with some red onion and basil, salt and pepper, olive oil and white balsamic with oregano from O&Co. It was a great meal, and both pies were fantastic!