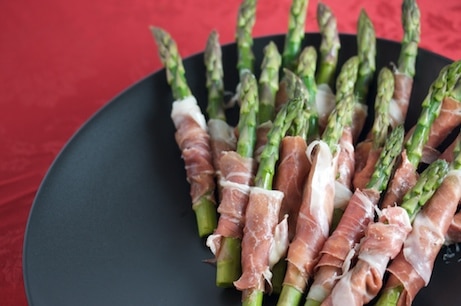 Prosciutto-Wrapped Asparagus with Truffle Butter
This post may contain affiliate links. Thank you for supporting the brands that keep me creative in my tiny kitchen!
This appetizer was outstanding! I used soy butter with the truffle oil. It was a big hit with our dinner guests! I highly recommend this one as an easy and impressive appetizer. My only suggestion is to tear the prosciutto into long ribbons instead of 3×3 inch pieces. The long ribbon shapes wrap better. It's too bad these got eaten up so fast – I'd love to snack on a few more right now!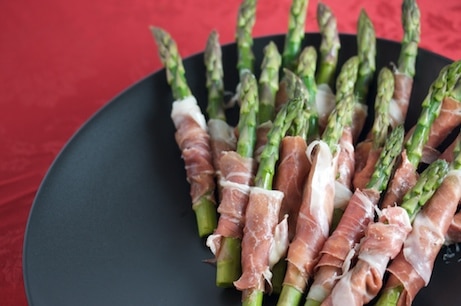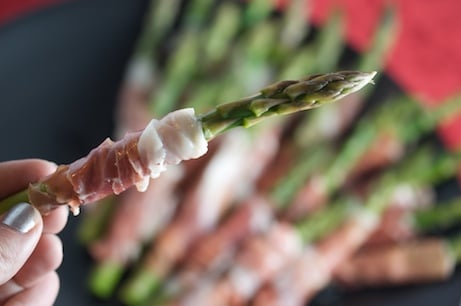 Prosciutto-Wrapped Asparagus with Truffle Butter
Gourmet April 2006
1 lb medium asparagus (18 to 20)
1/2 teaspoon white-truffle oil
2 tablespoons unsalted butter, softened
9 or 10 large thin slices prosciutto (1/3 lb)
Prepare a large bowl of ice and cold water. Trim asparagus to 5 inches long, then steam in a steamer over boiling water until crisp-tender, about 4 minutes. Transfer to cold water to stop cooking. Drain and pat dry. Season with salt.
Stir oil into butter until incorporated.
Cut prosciutto slices into roughly 3- by 3-inch pieces, then thinly coat with truffle butter and place an asparagus stalk at one edge. Roll up, leaving tip and end visible. Repeat with remaining asparagus and prosciutto.
MacGourmet Rating: 5 Stars