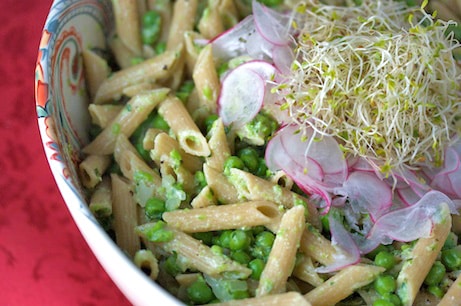 Penne with Peas and Ricotta
This post may contain affiliate links. Thank you for supporting the brands that keep me creative in my tiny kitchen!
This recipe is really good, but make sure to season it well with salt and pepper. The radishes surprisingly add a lot to the dish, but if you're like me and you can't find pea shoots or sprouts, just skip them. I used alfalfa sprouts and they really didn't add anything.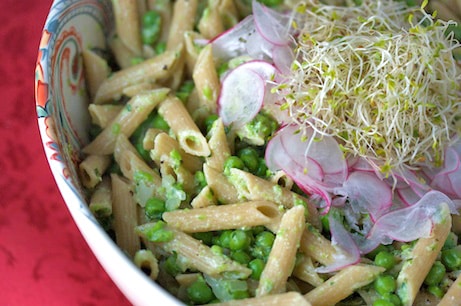 Penne with Peas and Ricotta
Every Day with Rachael Ray
Spring has sprung! Stock up on fresh veggies for this easy meal.
PAIR WITH: Whitehaven Sauvignon Blanc 2006 (New Zealand)
4 Servings
Prep 15 min
Cook 15 min
Salt and pepper
1 lb. penne rigate pasta
Two 10-ounce boxes frozen green peas
⅓ cup chopped fresh mint(a generous handful)
⅓ cup chopped flat-leaf parsley (a generous handful)
1 cup ricotta cheese
2 tablespoons extra-virgin olive oil (EVOO)
2 shallots, finely chopped
½ cup dry white wine *or chicken broth
2 radishes, thinly sliced, for topping
1 cup pea sprouts or pea shoots, for topping
1. Bring a large pot of water to a boil, salt it, add the pasta and cook until al dente. Drain, reserving a ladleful of the pasta cooking water.
2. While the pasta is working, bring a large saucepan of water to a boil, salt it, add 1 box of peas and cook for 2 minutes; drain. Transfer to a food processor and puree with the mint, parsley and ricotta; season with salt and pepper. Transfer to a large serving bowl.
3. In a medium skillet, heat the EVOO, 2 turns of the pan, over medium heat. Add the shallots and cook for 3 minutes. Add the wine, lower the heat and bring to a simmer, then add the remaining box of peas and heat through; season with salt and pepper.
4. Stir the reserved pasta cooking water into the ricotta mixture. Add the pasta and the shallot-pea mixture and toss; season with salt and pepper. Top with the radishes and pea sprouts.
MacGourmet Rating: 4 Stars