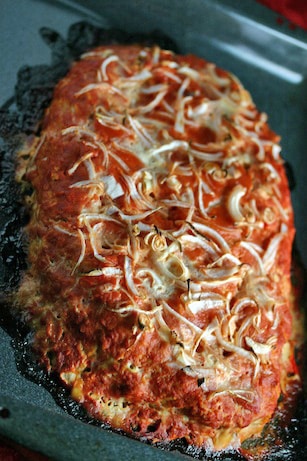 This post may contain affiliate links. Thank you for supporting the brands that keep me creative in my tiny kitchen!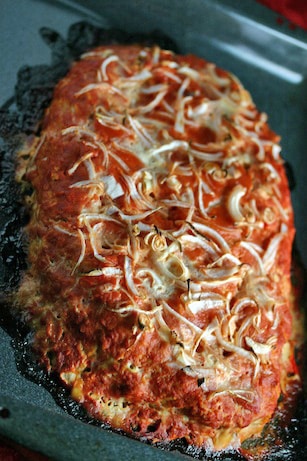 This is the second meatloaf recipe I've ever made – the other one is Persian Meatloaf. I didn't really like meatloaf growing up (sorry, Mom!) but I didn't really like ground beef at all until a few years ago. So I decided to try this turkey version of meatloaf tonight. It was really good, and it tastes hearty and healthy. I especially like the outside part that was covered in the tomato sauce.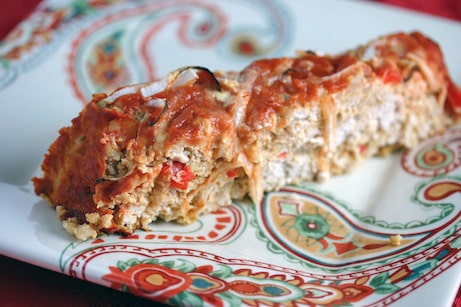 Mom's Turkey Meatloaf
The Food You Crave – Ellie Krieger
Serves 8
¾ cup quick-cooking oats
½ cup skim milk
1 medium onion, peeled
2 lbs. ground turkey breast
½ cup chopped red bell pepper
2 eggs, beaten
2 teaspoons Worcestershire sauce
¼ cup ketchup
½ teaspoon salt
Freshly ground black pepper
1 (8-ounce) can tomato sauce
Preheat the oven to 350 degrees F.
In a small bowl, stir together the oats and milk. Thinly slice 1/4 of the onion and set aside. Finely chop the remaining onion. In a large bowl combine the turkey, oat mixture, chopped onion, bell pepper, eggs, Worcestershire sauce, ketchup, salt and a few grinds of pepper. Mix just until well combined.
Transfer the mixture to a 9 by 13-inch baking dish and shape into a loaf about 5 inches wide and 2 1/2 inches high. Pour the tomato sauce over the meatloaf and sprinkle with the sliced onions. Bake for about 1 hour or until an instant-read thermometer registers 160 degrees.F.
Remove from the oven and let rest for 10 to15 minutes before slicing.
Nutrition Information per Serving: Calories: 205 Total Fat: 3.5Saturated Fat: 0.5 Protein: 32 Carbohydrates: 13 grams Fiber: 2 grams
MacGourmet Rating: 4 Stars