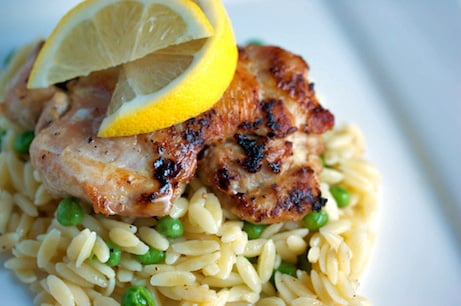 This post may contain affiliate links. Thank you for supporting the brands that keep me creative in my tiny kitchen!
I made this recipe with boneless, skinless chicken thighs, and it was really good! The meat was really moist, and there's a nice amount of flavor from the oil rub and the butter sauce at the end. I think maybe it would be better with a bit of fresh oregano instead, with it seared onto the chicken with the oil & garlic mixture.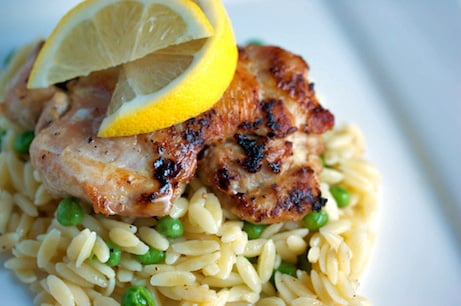 Lemon-Oregano Chicken
Gourmet April 2009
yield: Makes 4 servings
active time: 20 min
total time: 40 min
Chicken thighs are an excellent choice if you're looking for big, meaty flavor that's easy on the wallet. Here, they're seared until the skin is golden-crisp and then roasted with the classic combination of lemon and oregano until juicy.
2 garlic cloves
3 tablespoons vegetable oil, divided
2 tablespoons fresh lemon juice, divided
8 chicken thighs with skin (about 1 3/4 pounds)
2 tablespoons unsalted butter, divided
½ cup reduced-sodium chicken broth
1 teaspoon dried oregano
Accompaniment: lemon wedges
Preheat oven to 450°F with rack in middle.
Mince and mash garlic to a paste with a pinch of salt, then whisk together with 2 tablespoons oil, 1 tablespoon lemon juice, 1/2 teaspoon salt, and 1/4 teaspoon pepper. Pat chicken dry and coat with lemon-garlic mixture.
Heat 1 tablespoon butter and remaining tablespoon oil in a 12-inch heavy skillet over medium-high heat until foam subsides. Brown chicken in 2 batches, skin side down, until golden and crisp, 5 to 6 minutes (chicken will not be cooked through). Transfer, skin side up, to a 4-sided sheet pan.
Pour off fat (and any small burnt pieces) from skillet. Add broth and remaining tablespoon lemon juice and boil until reduced by half, about 2 minutes. Whisk in remaining tablespoon butter and oregano, then pour over chicken.
Roast chicken in oven until cooked through, about 20 minutes. Season with salt and pepper.
Serve with: orzo; asparagus with horseradish butter
MacGourmet Rating: 4 Stars