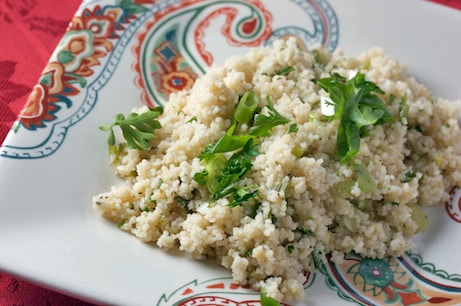 This post may contain affiliate links. Thank you for supporting the brands that keep me creative in my tiny kitchen!
This was a quick and easy side dish. It wasn't my favorite couscous recipe, but it was good. The flavors worked really well with the pork kebabs that I made for dinner.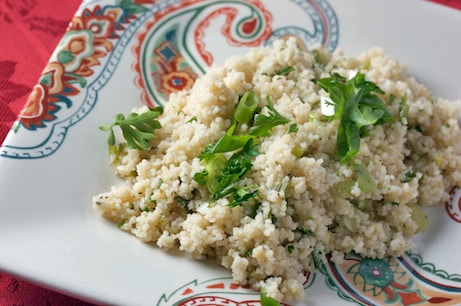 Lemon Couscous
Cooking Light June 2002
This recipe goes with Prosciutto-Wrapped Shrimp with Lemon Couscous.
Yield 4 servings (serving size: 1/2 cup)
1 1/4 cups water
3/4 cup uncooked couscous
1/4 cup sliced green onions
2 tablespoons finely chopped fresh parsley
2 tablespoons orange juice
1 teaspoon grated lemon rind
1 tablespoon fresh lemon juice
1/4 teaspoon salt
1/8 teaspoon black pepper
Bring water to a boil in a medium saucepan; gradually stir in couscous. Remove from heat; cover and let stand 5 minutes. Fluff with a fork. Stir in onions and remaining ingredients.
Nutritional Information
Calories: 102 (3% from fat)
Fat: 0.3g (sat 0.0g,mono 0.0g,poly 0.0g)
Protein: 3.7g
Carbohydrate: 21.8g
Fiber: 1.3g
Cholesterol: 0.0mg
Iron: 0.8mg
Sodium: 151mg
Calcium: 9mg
MacGourmet Rating: 3 Stars