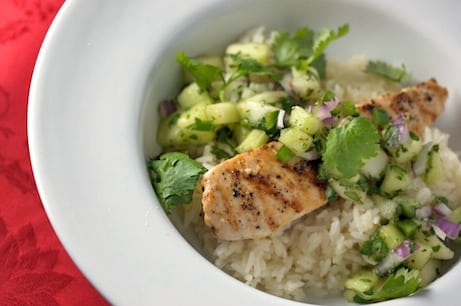 Grilled Chicken Breasts with Honeydew Salsa
This post may contain affiliate links. Thank you for supporting the brands that keep me creative in my tiny kitchen!
I made this recipe out of the newest issue of Bon Appétit and it was really good. It was a really refreshing combination. My store doesn't sell boneless chicken with the skin on, so I used boneless skinless chicken breasts. They rarely have serranos either, so I used a jalapeno. I made rice to go with it, cooked in a combination of pineapple juice and water, with some sautéed garlic and shallots in it. After we sat down to eat, I kind of wished I had also made some black beans, but it was plenty of food.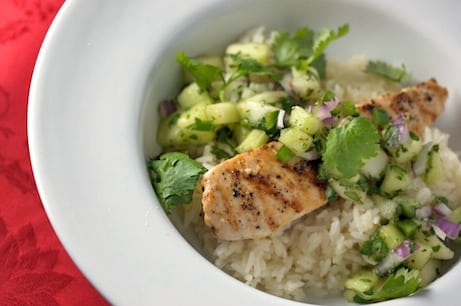 Grilled Chicken Breasts with Honeydew Salsa
Bon Appétit August 2009
Makes 4 servings
The salsa has a perfect sweet-spicy balance, and it's an easy way to turn simple grilled chicken breasts into a dish that's dinner-party special.
1 ⅓ cups finely diced peeled seeded honeydew or other melon
¼ cup finely chopped fresh cilantro plus 1/4 cup cilantro leaves
¼ cup finely diced red onion
2 tablespoons fresh lime juice
2 tablespoons olive oil
2 teaspoons finely grated lime peel
1 teaspoon finely chopped seeded serrano chile
Nonstick vegetable oil spray
4 boneless chicken breast halves with skin
Combine diced melon, 1/4 cup chopped cilantro, finely diced red onion, lime juice, olive oil, grated lime peel, and chopped serrano chile in medium bowl. Toss to blend flavors. Season melon salsa to taste with salt and pepper.
Spray grill with nonstick vegetable oil spray; prepare barbecue (medium heat). Sprinkle chicken breasts with salt and pepper. Grill chicken breasts until skin is crisp and brown and chicken is cooked through, about 5 minutes per side.
Slice chicken breasts and arrange on plates. Top with melon salsa and cilantro leaves and serve.
MacGourmet Rating: 4 Stars