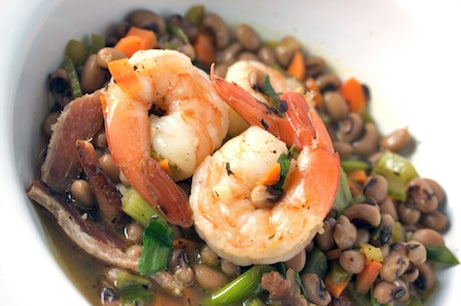 Garlicky Black-Pepper Shrimp and Black-Eyed Peas
This post may contain affiliate links. Thank you for supporting the brands that keep me creative in my tiny kitchen!
It's sad that Gourmet is gone now, because I've been finding a lot of great recipes that had been published there through the Epicurious app on my iPod. This dish was nice – the peas made it hearty without being too heavy, and the smokiness of the bacon (I used thick center cut rubbed bacon from Whole Foods) really added a nice richness to the delicate shrimp. Don't be shy with the freshly ground black pepper in this dish – it really makes it shine!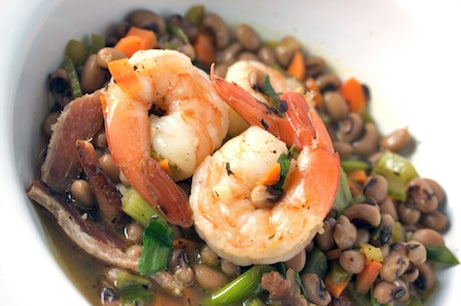 Garlicky Black-Pepper Shrimp and Black-Eyed Peas
Gourmet March 2009
For black-eyed peas:
4 bacon slices
4 scallions, chopped
1 medium carrot, finely chopped
1 celery rib, finely chopped
1/2 medium green bell pepper, chopped
2 large garlic cloves, finely chopped
2 Turkish bay leaves or 1 California
1 teaspoon dried thyme
1/8 teaspoon hot red-pepper flakes
2 (15-ounces) cans black-eyed peas, rinsed and drained
1 3/4 cups reduced-sodium chicken broth
For shrimp:
3 tablespoons extra-virgin olive oil
1 pound large shrimp, peeled and deveined
3 large garlic cloves, finely chopped
1/2 cup dry white wine
Make black-eyed peas: Cook bacon in a 12-inch heavy skillet over medium heat until browned but not crisp. Transfer bacon to a plate, then tear into small pieces.
Cook scallions, carrot, celery, bell pepper, garlic, bay leaves, thyme, red-pepper flakes, 1/8 teaspoon salt, and 1/4 teaspoon pepper in fat in skillet over medium heat, stirring occasionally, until vegetables are pale golden, about 10 minutes. Add black-eyed peas and broth and simmer 5 minutes. Transfer to a bowl.
Make shrimp: Heat oil in skillet over medium-high heat until it shimmers. Season shrimp with 1/4 teaspoon salt and 1/2 teaspoon black pepper. Cook shrimp with garlic, stirring occasionally, until just opaque (shrimp will not be fully cooked), about
3 minutes. Add wine and bring to a boil, then briskly simmer 2 minutes. Add bacon and black-eyed-pea mixture and simmer until just heated through
(mixture will be juicy). Discard bay leaves.
MacGourmet Rating: 4 Stars