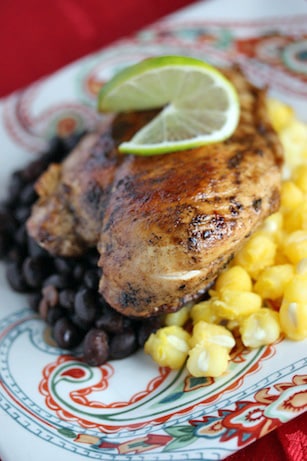 This post may contain affiliate links. Thank you for supporting the brands that keep me creative in my tiny kitchen!
This recipe tasted like…chicken. The marinade didn't really do much for it. I don't think 15 minutes is enough to really get through. I cooked it in the cast iron skillet, and served it on top of black beans and golden hominy. I won't be making it again.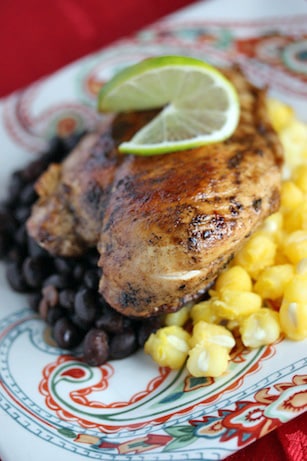 Garlic Lime Chicken
McCormick
Deliciously marinated with "Southwest-style" seasonings, these chicken breasts go well with steamed zucchini and Mexican rice.
⅓ cup olive oil
¼ cup lime juice
2 tablespoons tequila (optional)
1 teaspoon McCormick® Garlic Powder
1 teaspoon McCormick® Cilantro Leaves
¼ teaspoon McCormick® Ground Red Pepper
¼ teaspoon McCormick® Ground Cumin
¼ teaspoon McCormick® Season-All® Seasoned Salt
1 ½ lbs. boneless, skinless chicken breasts
1. Combine all ingredients except chicken in a glass dish or large self-closing plastic bag. Add chicken; turn to coat. Cover or close bag. Refrigerate 15 minutes.
2. Remove chicken from marinade and grill or broil 5-7 minutes per side. Baste with marinade halfway through cooking, if desired. Discard any remaining marinade.
A Taste For Health Tip: For a lighter version, decrease olive oil to 2 tablespoons and ground red pepper to 1/8 teaspoon, saving 40 calories and 5 grams fat per serving.
Nutritional notes:
Calories: 205, Fat: 13 g, Cholesterol: 51 mg, Sodium: 156 mg, Carbohydrates: 1 g, Fiber: 0 g, Protein: 21 g
MacGourmet Rating: 2 Stars