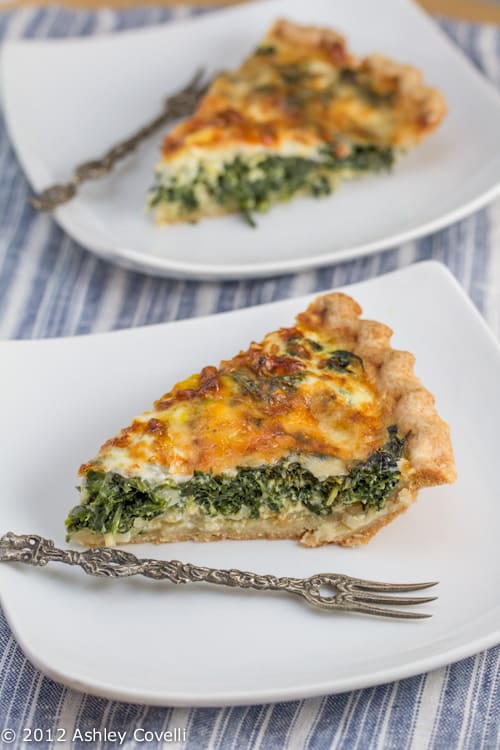 Father's Day: Spinach and Cheese Quiche
This post may contain affiliate links, which won't change your price but will share some commission.
Happy Father's Day to all of the fathers (and father figures!) out there. A special shout-out to my dad (you're the BEST!!!!) and to my friend Mike, who just became a daddy a few days ago! And of course, my husband, Dino, who is the best baby daddy a girl could ever ask for. He never ceases to impress me with how wonderful he is with our little daredevil of a toddler. They are absolutely adorable together, which makes my heart sing.
I could go on and on (and on and on…), but let's focus on the food of the day. Quiche. Dino absolutely loves quiche. I remember being upstate at some friends' house last year, and someone asked him if he would like more quiche. He said, "the answer is ALWAYS yes if the question is, 'do you want more quiche', so yes. Yes I would like a third piece of quiche". Ha! So I figured it would be nice to make this quiche again for him for Father's Day breakfast. He usually cooks breakfast on the weekends, so I knew it would be a treat. This is super simple to get in the oven. The only thing I changed was to specify that you need a deep dish pie shell. Last time, I used a regular one and couldn't fit all of the eggs and milk inside. This time it was perfect. I don't even know why they bother making non-deep dish pie shells anymore – it never seems to work out right in my experience. But I digress. I served this with some prefect Crispy Oven-Baked Bacon and a big pot of coffee. It was a great way to start the day!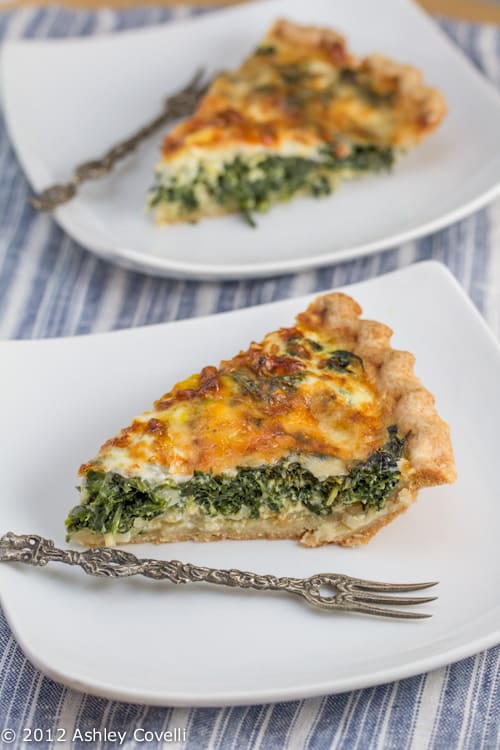 Spinach and Cheese Quiche
All You September 2009
Make an easy spinach and cheese quiche for breakfast or brunch using frozen chopped spinach and a frozen or refrigerated pie crust shell.
1 tablespoon unsalted butter
1/2 onion, finely chopped
1 clove garlic, minced
1 10-oz. package frozen chopped spinach, thawed and squeezed dry
1 1/2 cups grated Gruyère
1 9-inch unbaked deep dish pie shell
3 large eggs, lightly beaten
1 1/2 cups milk
Salt and pepper
Pinch of ground nutmeg
1. Preheat oven to 375ºF. In a small skillet over medium heat, melt butter. Add onion and sauté until translucent, about 5 minutes. Add garlic and cook for 1 minute longer, stirring. Transfer to a small bowl and let cool.
2. Sprinkle onion mixture, spinach and Gruyère over bottom of pie shell. Beat eggs and milk together, season with salt, pepper and nutmeg. Gently pour into crust.
3. Bake quiche for 40 to 45 minutes, until set and nicely browned. Remove from oven and let rest for 10 minutes.
Big Flavors Rating: 5 Stars