This post may contain affiliate links, which won't change your price but will share some commission.
Why choose between baking a batch of brownies or a pie when you can have BOTH?
Especially when it's topped with an ooey gooey peanut butter swirl, all baked into a pretzel crust.
Yeah. No contest.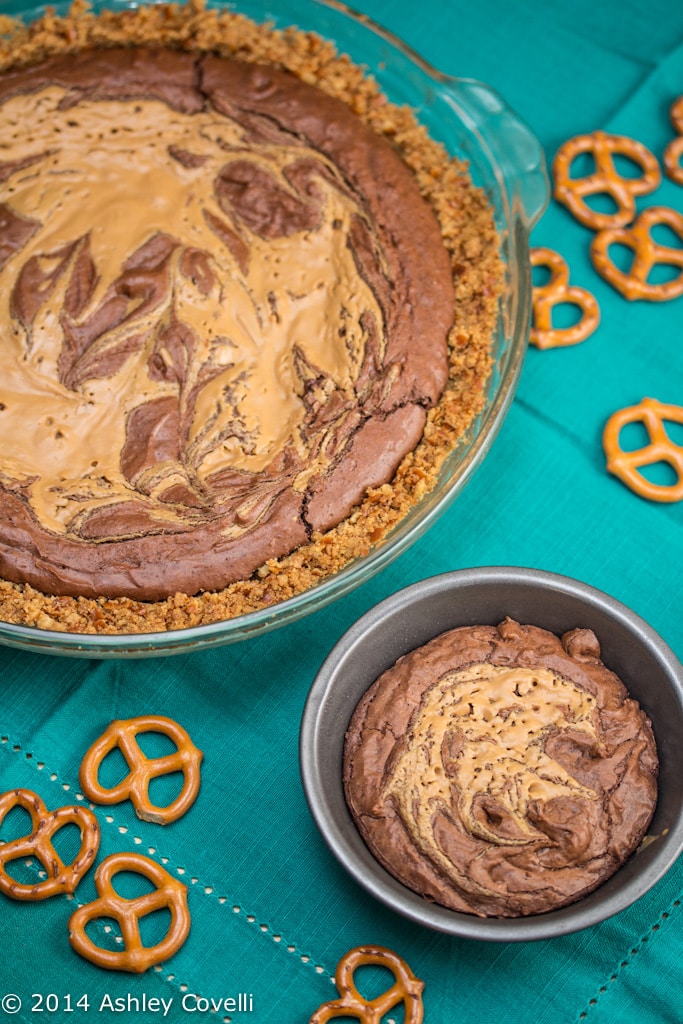 This pie was fantastic. A nice, dense brownie base with the perfect amount of peanut butter swirled on top. My brownie batter was a little thick, so it was kind of tricky getting the peanut butter to swirl. But it turned out beautiful!
Dino and I happily ate a slice of this decadent pie every night until there was nothing but crumbs left. The recipe made enough for me to make one full-sized brownie pie plus a little one (without crust) that my son absolutely loved! At first, he tried to pick the peanut butter out, but once he realized it was chocolate and peanut butter - he was in toddler dessert heaven!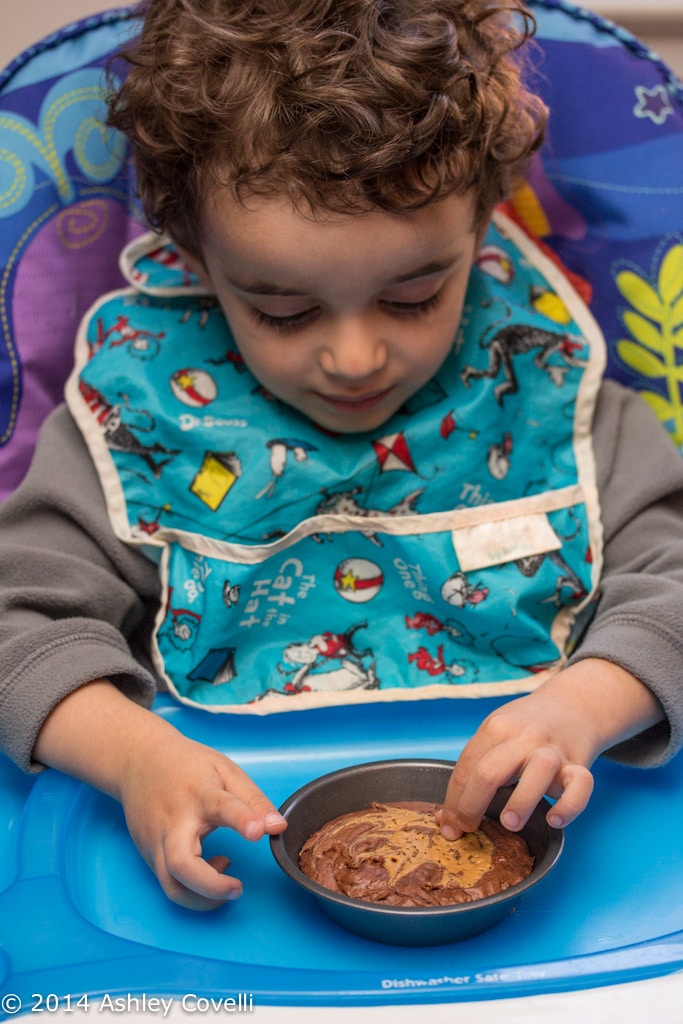 My crust was really crumbly - maybe I didn't grind my pretzels up fine enough. I used unsalted pretzels, since the recipe didn't state whether or not they should be salted, and I think a little salt would have been just fine here. Dino really liked it as is, so maybe just a little sprinkle of sea salt on the top next time so it doesn't get too salty.
Make sure you give yourself plenty of time to make this pie. It's fairly labor intensive, and will leave you with a big pile of dishes to clean up. It's absolutely delicious though, so it's worth it in my opinion 🙂
---
One of my favorite childhood memories is of baking pies with my grandma. She had a big pile of pie plates, plus a few smaller, kid-sized ones for me. She always made sure there was extra pie dough and filling so we could make one normal sized pie plus one or two mini pies just for me! It was so much fun, and really helped to kindle my love for cooking and baking.
My husband absolutely loves pie (as witnessed by our favorite pie recipes and our annual celebration of pie on Pi Day). For Christmas last year, he tracked down a mini baking set so that our 2-year-old son could do some miniature baking with me in our tiny kitchen. It was incredibly thoughtful, and I was psyched to start a baking tradition with him.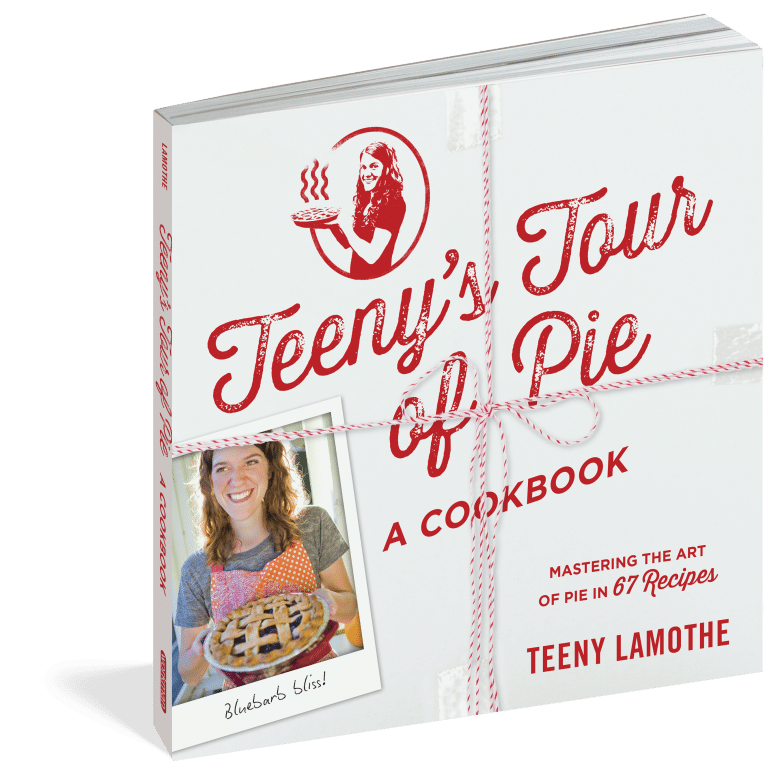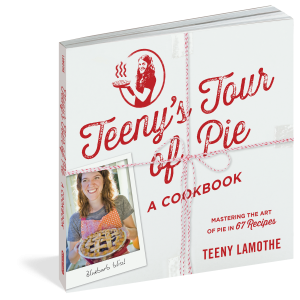 When I was asked to review a new cookbook dedicated entirely to pie (both regular sized and "teeny") I knew it was kismet. Teeny's Tour of Pie by Teeny Lamothe is a fantastic resource for all things pie. She had a similar childhood experience, baking tiny pies with her mother. As an adult, decided to spend a year traveling across America to do a "Tour of Pie" - essentially working as an intern in some of the country's best pie shops to learn from the real pie pros.
The book starts out with a section about the tools of the trade and gives beginner pie bakers the lowdown on what is truly necessary to start cranking fresh pies out of their very own kitchens. Next is a section on the elements of crust, complete with a variety of recipes to be used for the pies featured in the rest of the book. She also illustrates a variety of ways of crimping, venting and decorating crusts.
Lamothe encourages baking with fresh, seasonal ingredients, so the rest of the book is broken up by season. There are a lot of unique combinations of ingredients within these pages, along with her perfected versions of the classics that everyone knows and loves. There are both sweet and savory pies, and I've bookmarked a lot of them to try out soon!
Workman Publishing supplied me with 2 copies of the book (I'll be giving one away next week - stay tuned!) & Food Lion sent over a box with some baking supplies to help get me started in the kitchen. You can also check out the Teeny Pies website if you want to see how to get pies straight from the source.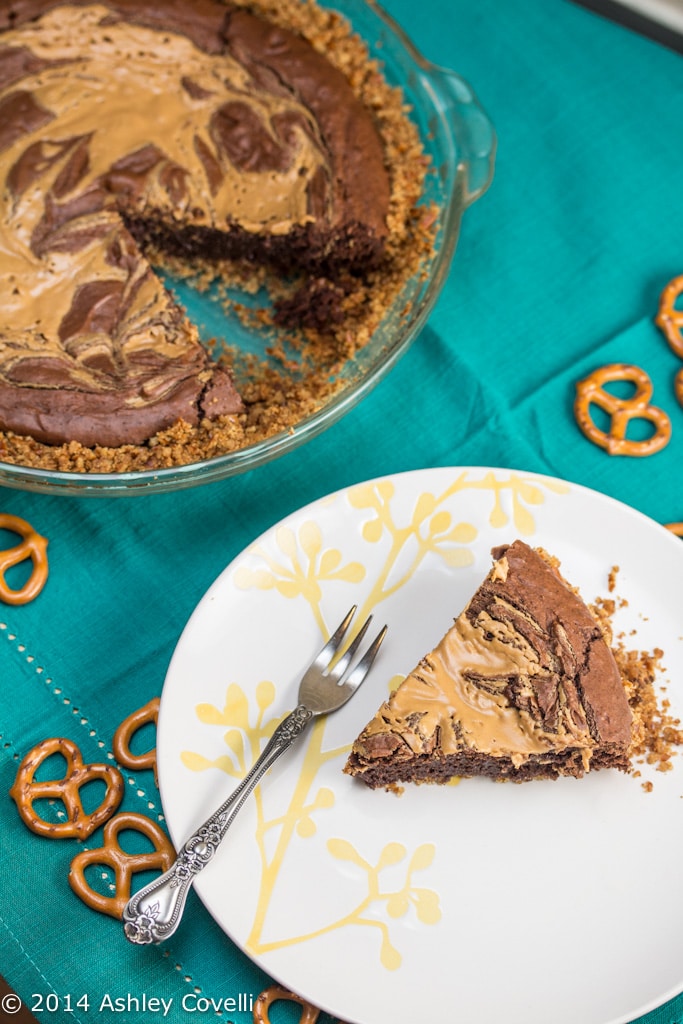 Print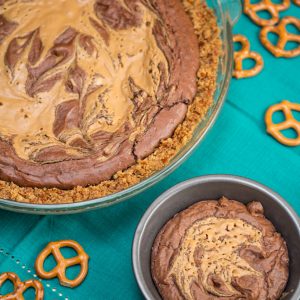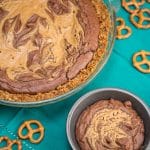 Peanut Butter Brownie Pie with a Pretzel Crust
Author:

Prep Time:

1 hour

Cook Time:

35 minutes

Total Time:

1 hour 35 minutes

Yield:

8

servings

1

x

Category:

Dessert

Method:

Oven

Cuisine:

American
---
Description
Why choose between baking a batch of brownies or a pie when you can have BOTH? Especially when it's topped with an ooey gooey peanut butter swirl, all baked into a pretzel crust. Yeah. No contest.
---
---
Instructions
Preheat the oven to 350°F with a rack in the middle position.
Place the pretzel crumbs in a medium bowl. Pour the melted butter over them and mix with a spoon or rubber spatula until they are coated evenly and clump readily when pressed together.
Spoon three quarters of the mixture into a 9-inch pie plate and, using your fingers, press the mixture up the side of the plate until you have a ¼-inch thick shell all the way around. Spoon the rest of the mixture into the center of the plate and press it to form the bottom of the shell, making sure the bottom and sides are joined.
Bake until the shell is lightly browned, 5 to 7 minutes. Remove it from the oven and let it cool on a rack, then transfer it to the refrigerator and chill for at least 30 minutes before filling.
Fill a medium saucepan with water, leaving a space of 2 to 3 inches at the top, and bring to a boil over medium-high heat.
Place the butter, chocolate, and ¼ cup of the peanut butter in a large heatproof bowl (it would be big enough to sit on top of the saucepan and heat, stirring occasionally, until the butter, chocolate, and peanut butter have melted. Remove the bowl from the heat and whisk in the cocoa powder until smooth. Set the bowl aside to cool.
Place the remaining ¼ cup peanut butter in a small saucepan over low heat and cook, stirring occasionally, until it's thinner and almost runny, 5 to 7 minutes. Remove from the heat and set aside.
Whisk together the eggs, sugar, and vanilla in a large bowl. Slowly pour the cooled chocolate mixture into the egg mixture and whisk briskly until smooth.
Stir together the flour, baking powder, and salt in a small bowl. Add to the brownie and stir until smooth.
Pour the brownie batter into the pretzel crust, filling it to just below the very top. Spoon three or four small dollops of the melted peanut butter on top of the brownie batter and gently swirl it into the batter with a table knife or toothpick.
Bake until a knife inserted 2 inches from the edge of the crust comes out clean, 35 to 40 minutes. Let cool before serving.
---
Notes
Peanut Butter Brownie Pie with a Pretzel Crust will keep for 2 to 3 days, covered, on the countertop.
Reprinted with permission from Teeny's Tour of Pie by Teeny Lamothe.
Nutrition
Serving Size:
Calories:

564

Sugar:

39.2 g

Sodium:

218.2 mg

Fat:

36.3 g

Saturated Fat:

18.6 g

Carbohydrates:

56.7 g

Fiber:

3.6 g

Protein:

9 g

Cholesterol:

99.9 mg
Keywords: peanut butter pie, pretzel pie crust, chocolate peanut butter pie
Recipe Card powered by
*Note: I received promotional items to try out, but was in no other way compensated. As always, all opinions are 100% my own. If you have a product that you feel would be of interest to myself and my readers, you can submit information for review via my contact page.