This post may contain affiliate links, which won't change your price but will share some commission.
I enjoy experimenting with recipes that sound like they're tiptoeing the line of sanity. Throwing words like "bourbon" and "bacon" next to "pie" could be absolutely insane. Or insanely delicious.
I was banking on the latter when I decided to make this beauty from Teeny's Tour of Pie and serve it to my Italian in-laws for Easter dessert.
What can I say, I'm a risk-taker like that. I'm not much of a gambler when it comes to money. But gambling in the kitchen is definitely my style.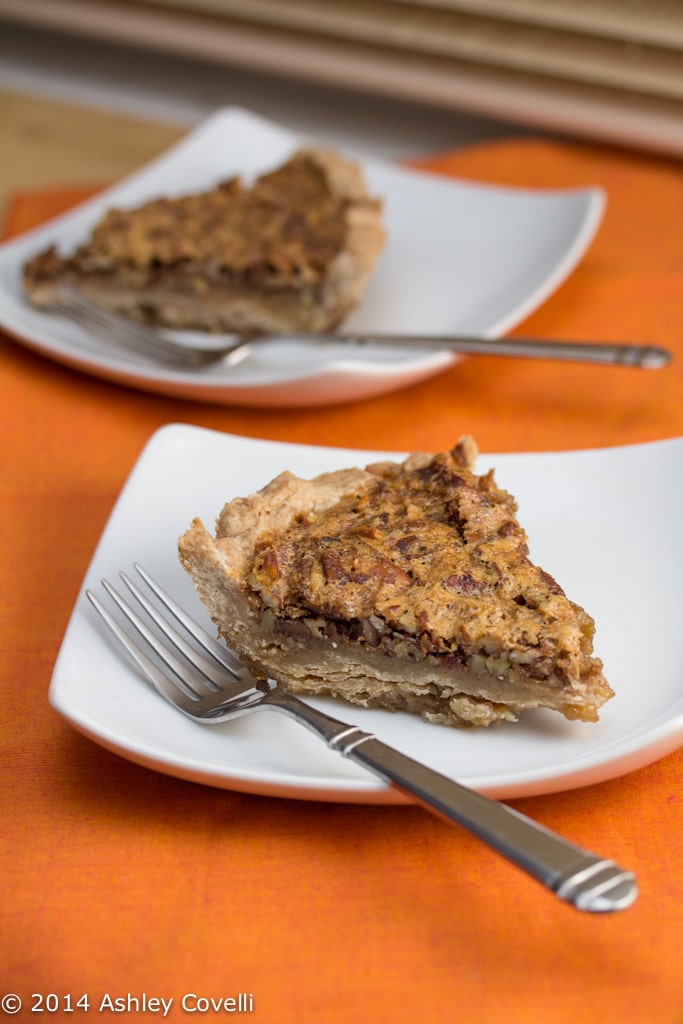 This pie was fantastic! I love that it isn't quite as over-the-top sweet as most pecan pies that I've had in the past. And that's a good thing, because my husband absolutely adores pecan pie.
The bacon isn't super noticeable here, but it adds a nice bit of saltiness to the sweet filling. The perfume of bourbon is definitely something I could get used to in my after dinner treats.
The whole wheat crust was really nice here, too. Mine was a bit dry, and I was worried that it wasn't going to work out. I just kneaded it a little more before rolling it out and it worked out fine.
I still have the other half of that dough in the freezer, since it makes enough for two crusts. Making pie another day is going to be that much easier!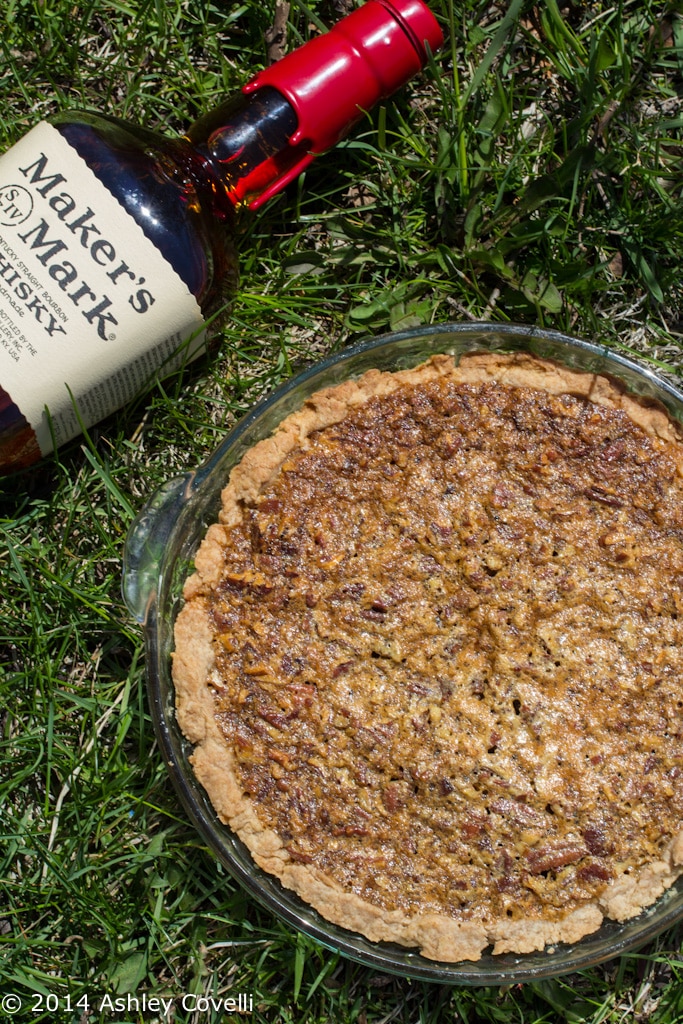 Bourbon Bacon Pecan Pie
Teeny's Tour of Pie – Teeny Lamothe
Prep time: 30 minutes
Bake time: 50 to 60 minutes
Total time: 1 hour 30 minutes
Makes: one 9-inch single-crust pie (6 to 8 slices) or four 5-inch single crust pies
6 tablespoons (¾ stick) unsalted butter, at room temperature
1 cup packed light brown sugar
3 large eggs
½ teaspoon salt
1 teaspoon pure vanilla extract
¾ cup dark corn syrup
2 tablespoons bourbon
4 strips bacon, well cooked and roughly chopped
1 disk dough from Whole Wheat Crust (recipe follows)
Up to 3 tablespoons all-purpose loud, for rolling out the crust
1. Preheat the oven to 350°F with a rack in the middle position.
2. Whisk together the butter and sugar with a wire whisk in a large mixing bowl until the mixture is light and fluffy. Add the eggs, one at a time, mixing after each addition. Add the salt, vanilla, corn syrup, and bourbon and whisk unit everything is fully incorporated. Stir in the bacon and 1 cup of the chopped pecans. Set aside.
3. Prepare the crust: Place the dough on a floured work surface and with a floured rolling pin, roll it into a rough 11-inch circle about ⅛ inch thick. Lay the crust into a 9-inch pie dish, gently press it in, and trim any excess dough from the edge with a paring knife, being sure to leave a ¾-inch overhang. Tuck the overhanging dough under itself and crimp. Place the lined pie dish on a rimmed baking sheet.
4. Arrange the remaining ½ cup of pecans in a layer on the bottom of the pie shell. Give the filling one last stir, in case anything has settled to the bottom. Pour the filling over the pecans and bake until the crust and the pecans are golden brown and the middle of the pie no longer wobbles, 50 to 60 minutes. Let cool at room temperature until the filling is set, at least 45 minutes, before serving.
Bourbon Bacon Pecan Pie will keep for 4 to 5 days, covered, on the countertop.
Whole Wheat Crust
Prep time:15 minutes
Chill time: 1 hour, ideally overnight
Total time: 1 hour 15 minutes
Makes: one 9-inch double crust, four 5-inch double crusts, or eight 5-inch single crusts
1 ½ cups all-purpose flour
1 cup white whole wheat or whole wheat flour
2 teaspoons salt
2 tablespoons granulated sugar
¾ cup (1 ½ sticks) cold unsalted butter, cut into small pieces
¼ cup (4 tablespoons) cold vegetable shortening
¼ cup (4 tablespoons) cold vodka
½ cup (8 tablespoons) cold water, plus extra as needed
1. In a large bowl, stir together the flour, salt, and sugar until everything is thoroughly combined. Add the butter and shortening and cut the mixture together using a pastry cutter until it forms small pea-size crumbs coated in flour.
2. Pour the vodka evenly over the dry ingredients, a few tablespoons at a time, using a rubber spatula to press the dough together. Similarly, add the water, and continue to press the dough together to form a large ball. The dough should be fairly wet and sticky; if for some reason it seems particularly dry, add a little extra ice water a tablespoon at a time until everything comes together easily. (Be careful to work the dough as little as possible; otherwise the crust may be tough.)
3. Divide the dough into two equal balls, press each into a disk, wrap each in plastic, and refrigerate for at least an hour or up to 2 days before rolling out.
Big Flavors Rating: 5 Stars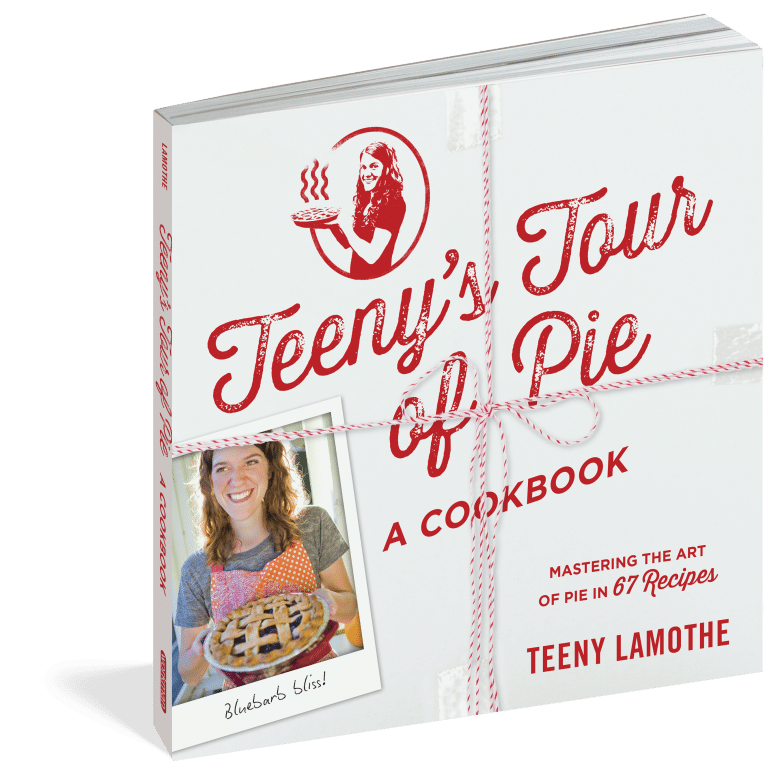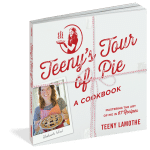 And now, for the giveaway! Workman Publishing sent me an extra copy of Teeny's Tour of Pie to give away to one of my readers. To enter to win, leave a comment below telling me your favorite flavor of pie. The contest will close on Friday, May 9, 2014 at 12 noon (Eastern Standard Time). Winners will be chosen via random.org and will be contacted via email to get mailing information. Good luck, everyone!
*Note: I received promotional items to try out, but was in no other way compensated. As always, all opinions are 100% my own. If you have a product that you feel would be of interest to myself and my readers, you can submit information for review via my contact page.
UPDATE – The winner has been selected via random.org – CONGRATS to Ashley B!