This post may contain affiliate links, which won't change your price but will share some commission.
In addition to the Sweet Potato Pie that I made for Thanksgiving this year, I made this decadent, chocolatey pie.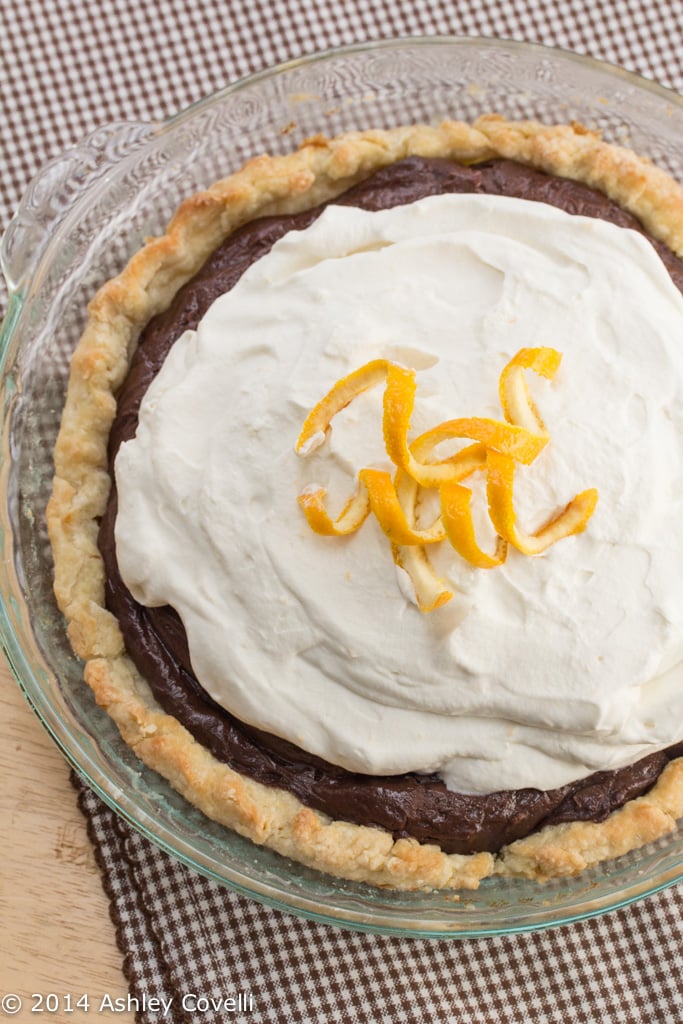 I actually had part of this pie saved from a while back when I made Bourbon Bacon Pecan Pie, because I was reading the ingredients from the wrong page! I had already mixed together the first 4 (dry) ingredients when I realized it didn't sound like the pie I was planning to make. So I bagged it up and saved it for another time.
This pie wasn't too tricky to put together, but you do need to allow some time for the chocolate to set. This made it a perfect candidate for Thanksgiving, as I made it on Wednesday and then made the whipped cream on Thursday afternoon.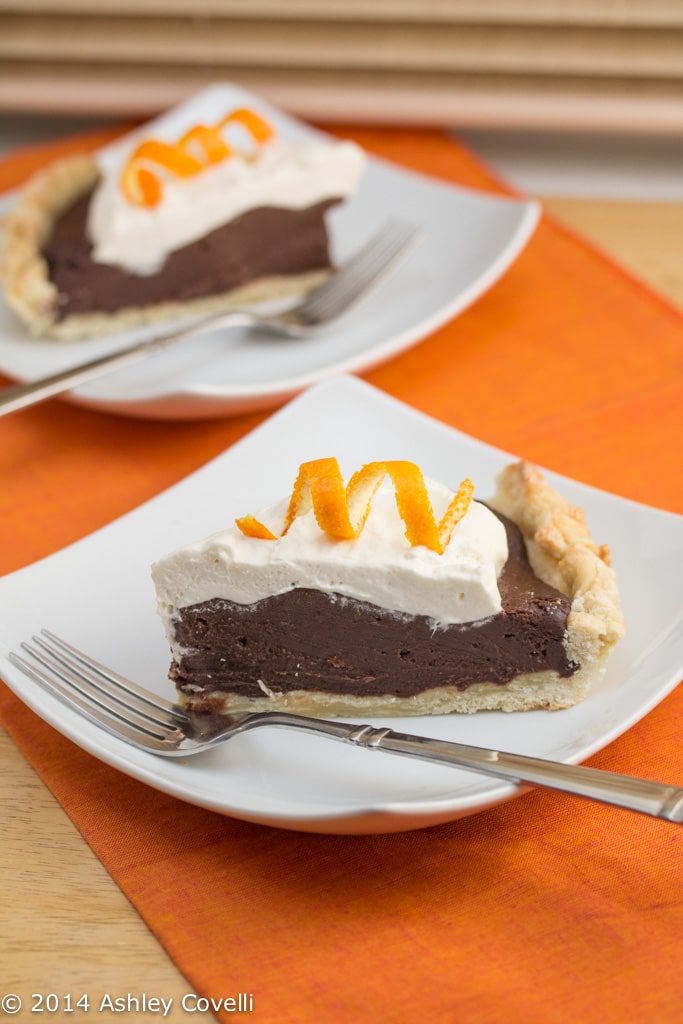 This was a big hit with my family! The orange flavor really comes through in the whipped cream, and the chocolate is rich and decadent.
I used 2% milk instead of whole, since that's what I usually keep on hand, and it worked out just fine.
I went for a pretty garnish of orange curls atop this pie, which gave it a major wow factor.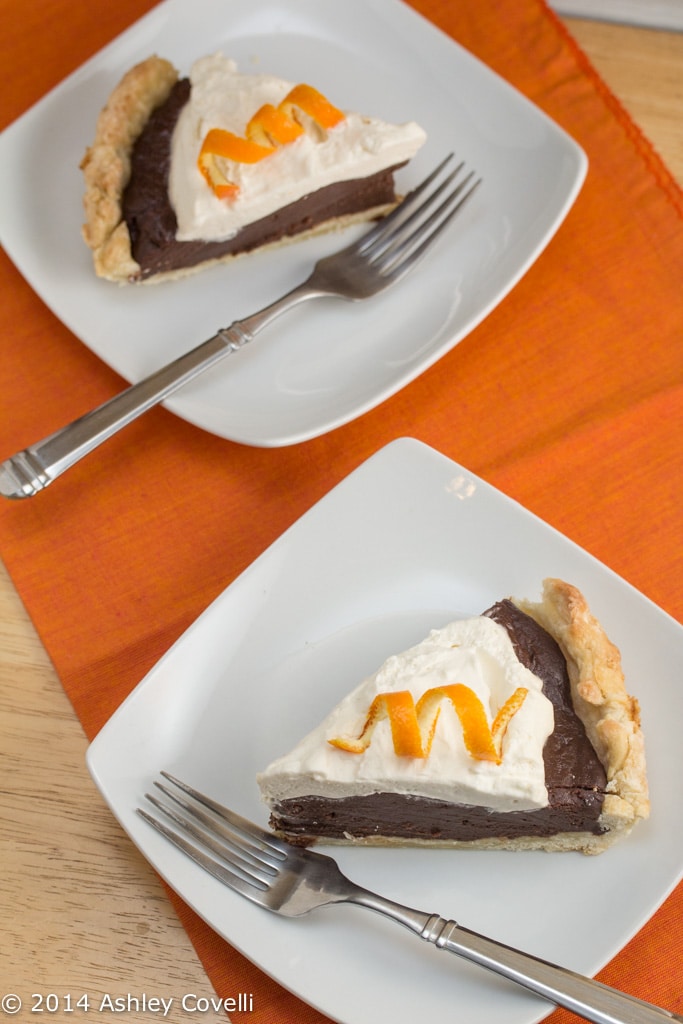 Chocolate Cream Pie with Orange Zested Whipped Cream
Teeny's Tour of Pie - Teeny Lamothe
Prep time: 30 minutes
Chill time: 4 hours
Total time: 4 hours 30 minutes
Makes: One 9-inch single-crust pie (6 to 8 slices) or four 5-inch single-crust teeny pies
¾ cup granulated sugar
¼ cup unsweetened cocoa powder
3 tablespoons packed cornstarch
¼ teaspoon salt
1 ½ cups whole milk
½ cup heavy (whipping) cream
4 large egg yolks
1 cup semisweet chocolate chips
1 prebaked 9-inch Buttery All-Purpose Crust (recipe follows)
Orange Zested Whipped Cream, for topping (recipe follows)
1. Whisk together the sugar, cocoa powder, cornstarch, and salt in a large saucepan until well combined.
2. Whisk together the milk, cream, and egg yolks in a separate small bowl until smooth. Pour the milk mixture into the saucepan and whisk until everything comes together and the mixture looks like frothy chocolate milk.
3. Place the saucepan over medium heat and cook, whisking constantly, until the mixture comes to a low simmer and begins to to thicken, about 8 minutes. Continue cooking, whisking constantly and being sure to scrape the bottom of the pan to prevent scorching, until the mixture begins to boil, about 5 minutes more. Still whisking constantly, let it boil for a full minute, then immediately remove it from the heat.
4. Add the chocolate chips to the thickened chocolate cream and whisk until they melt completely and the mixture is smooth.
5. Pour the chocolate filling into the pie crust and, while still hot, cover it with plastic wrap to prevent a film from forming on the top. Refrigerate the pie until it's set, at least 4 hours.
6. Before serving, remove the plastic and top with the whipped cream. Serve cold.
Buttery All-Purpose Crust
Prep time: 15 minutes
Chill time: 1 hour
Total time: 1 hour 15 minutes
Makes: One 9-inch double crust or four 5-inch double crusts
2 ½ cups all-purpose flour
2 teaspoons salt
2 tablespoons granulated sugar
¾ cup (1 ½ sticks) cold unsalted butter, cut into 1-inch pieces
¼ cup (4 tablespoons) cold vegetable shortening
¼ cup (4 tablespoons) cold vodka
6 tablespoons cold water, plus extra as needed
1. In a large bowl mix together the flour, salt, and sugar until everything is thoroughly combined. Add the butter and shortening and cut the mixture together using a pastry cutter until it forms small pea-size crumbs coated in flour.
2. Pour the vodka over the dry ingredients a few tablespoons at a time while using a rubber spatula to press the dough together. Similarly, add the water, and continue to press the dough together to form a large ball. The dough should be fairly wet and sticky; if for some reason it seems particularly dry, add a little extra ice water a tablespoon at a time until everything comes together easily. (Be careful to work the dough as little as possible, otherwise the crust may be tough.)
3. Divide the dough into two equal balls, press each into a 1-inch disk, wrap each in plastic and refrigerate for at least 2 hour or up to 2 days before rolling out.
Orange Zested Whipped Cream
Prep time: 5 to 10 minutes
Total time: 5 to 10 minutes
Makes: about 2 cups
1 cup heavy (whipping) cream
3 tablespoons confectioners' sugar
1 teaspoon pure vanilla extract
1-2 teaspoons freshly grated orange zest
In the bowl of a stand mixer fitted with the whisk attachment, or in a large bowl using a handheld electric mixer, beat together the cream, sugar, vanilla and orange zest on high speed until the mixture has doubled in size and becomes stiff enough to stick to the whisk, about 3 minutes. (If you whisk it for too long it will begin to turn into butter, which is never a pretty sight - unless that's your intention! - so just keep an eye on it and stop whisking when it reaches the consistency that you like.)
Big Flavors Rating: 4 Stars