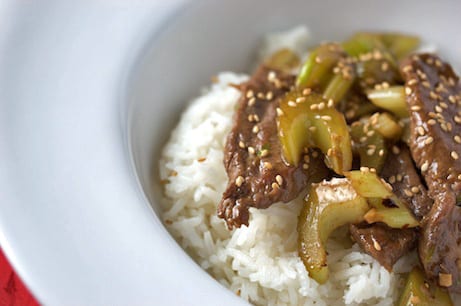 Cumin-Scented Stir-Fried Beef with Celery
This post may contain affiliate links. Thank you for supporting the brands that keep me creative in my tiny kitchen!
I picked this recipe because it looked quick and easy – perfect for a busy weeknight meal. I doubled the recipe and it came together pretty quickly. The flavors were unlike any other stir-fry we've had – I'd call it "interesting" but not necessarily something I'd jump to make again. It was a nice change of pace, and we always welcome fun new recipes. I sprinkled some toasted sesame seeds on top at the end to finish it off.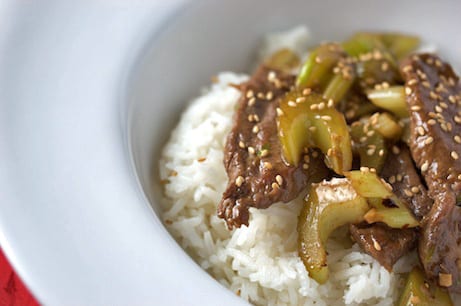 Cumin-Scented Stir-Fried Beef with Celery
Gourmet November 2008
yield: Makes 1 serving
active time: 15 min
total time: 15 min
Cumin makes this easy stir-fry exceptionally fragrant, while the last-minute addition of celery leaves creates a counterpoint of aromatic freshness.
6 ounce steak such as blade or flank (trim any fat and gristle)
2 1/2 teaspoon reduced-sodium soy sauce, divided
1/2 teaspoon cornstarch, divided
2 tablespoon Chinese rice wine or medium-dry Sherry
2 teaspoon vegetable oil, divided
1/2 teaspoon minced peeled ginger
1/2 teaspoon minced garlic
1/8 teaspoon cumin seeds
1/8 teaspoon hot red-pepper flakes
2 celery ribs, sliced diagonally 1/4 inch thick, leaves chopped and reserved separately
Equipment: a well-seasoned 12- to 14-inch flat-bottomed wok or a 12-inch heavy skillet
Halve steak lengthwise if large. Slice across the grain about 1/8 inch thick.
Toss beef with 1/2 teaspoon soy sauce, 1/4 teaspoon cornstarch, and a pinch of salt.
Stir together rice wine, remaining 2 teaspoon soy sauce, and remaining 1/4 teaspoon cornstarch.
Heat wok over high heat until smoking, then pour 1 teaspoon oil down side and swirl to coat. Add beef in 1 layer and cook, turning occasionally, until browned, less than 1 minute. Transfer to a bowl.
Add remaining teaspoon oil to wok, then add ginger, garlic, cumin, and red-pepper flakes and stir-fry 15 seconds. Add celery and stir-fry 1 minute, then add beef and juices and stir-fry 15 seconds. Stir rice-wine mixture, then pour into wok and stir-fry until sauce is bubbling, about 30 seconds. Remove from heat and stir in celery leaves.
Serve with: steamed white rice
MacGourmet Rating: 3 Stars