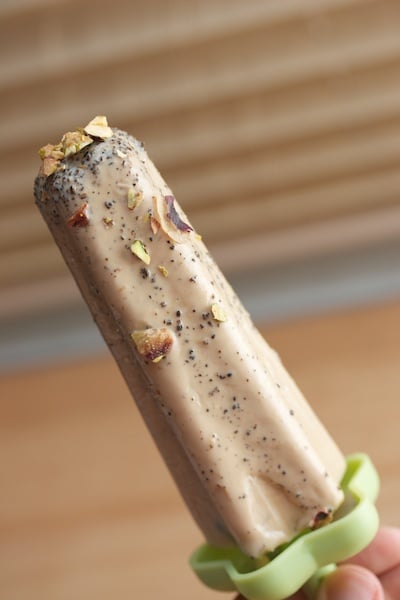 This post may contain affiliate links. Thank you for supporting the brands that keep me creative in my tiny kitchen!
This dessert is really different and tasty. The cardamom brightens up the tea flavor, and the pistachios add a nice crunch. It's pretty easy to put together, too. My popsicle mold makes 6, and I was able to save the mixture and make 4 more the next day.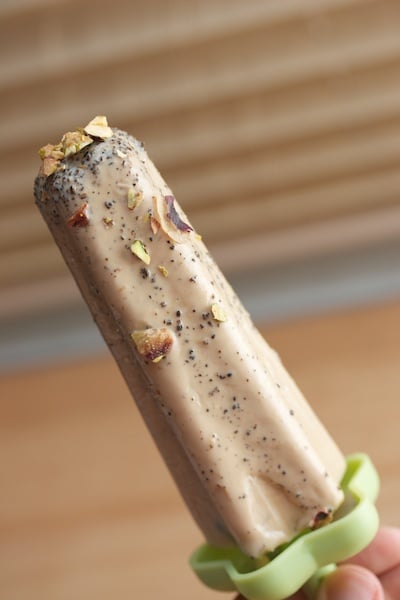 Creamy Pistachio Pops
Aarti Party – Aarti Sequeira
Cook Time: 5 min
Yield: 6 to 8 popsicles
Prep: 10 min
Inactive Prep: 12 hr 0 min
Cook: 5 min
Total: 12 hr 15 min
1 (12-ounce) can evaporated milk
4 Earl Grey tea bags
1/2 teaspoon ground cardamom
1 (14-ounce) can sweetened condensed milk
1 cup heavy cream
Handful finely chopped pistachios, plus extra for garnish
In a small saucepan over medium heat, bring evaporated milk to a simmer until small bubbles form around the circumference of the pot. Meanwhile, snip the tops of the tea bags and add to the milk. Whisk in cardamom. Once the milk is simmering, turn the heat off, cover and let sit and steep for 30 minutes.
Strain the evaporated milk into a large bowl. Whisk in the condensed milk, heavy cream and pistachios. Either pour the mixture into ice pop molds, small bowls or a large bowl. Cover the bowls with a piece of plastic wrap to avoid freezer burn and the formation of a "skin". Pop them into the freezer and freeze overnight.
When you're ready to serve, run the ice pop mold under hot water to loosen it. You can do the same thing for the smaller bowls if you'd like to serve it as a little kulfi half dome. Garnish with more nuts if you like and serve.
Big Flavors Rating: 4 Stars