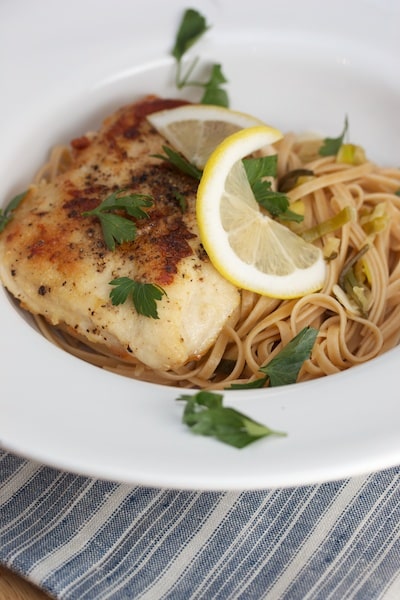 Chicken with Lemon-Leek Linguine
This post may contain affiliate links. Thank you for supporting the brands that keep me creative in my tiny kitchen!
This dish was in the newest issue of Cooking Light, and the note with the recipe said it would be ready in 30 minutes. I thought that sounded good for a weeknight. The flavors in this dish are good, but it's not something that I really felt warranted a recipe. It seems like something I'd throw together with things I have on hand in the house. So it was good, but not a real star. I probably wouldn't make it again.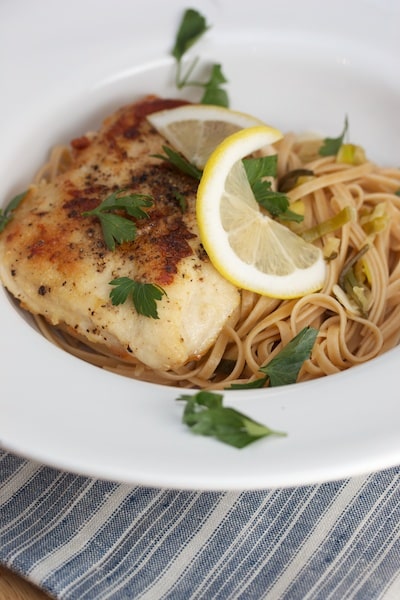 Chicken with Lemon-Leek Linguine
Cooking Light October 2010
Total: 30 minutes
Yield: 4 servings (serving size: 1 chicken breast half and 1 cup pasta mixture)
6 ounces uncooked linguine
4 (6-ounce) skinless, boneless chicken breast halves
1/2 teaspoon salt, divided
1/4 teaspoon black pepper
1/4 cup all-purpose flour
3 tablespoons butter, divided
3 garlic cloves, thinly sliced
1 leek, trimmed, cut in half lengthwise, and thinly sliced (1 1/2 cups)
1/2 cup fat-free, lower-sodium chicken broth
2 tablespoons fresh lemon juice
2 tablespoons chopped fresh flat-leaf parsley
1. Cook pasta according to package directions, omitting salt and fat. Drain; keep warm.
2. Place chicken between 2 sheets of heavy-duty plastic wrap; pound to an even thickness using a meat mallet or small heavy skillet. Sprinkle chicken with 1/4 teaspoon salt and pepper. Place flour in a shallow dish; dredge chicken in flour, shaking to remove excess.
3. Heat 1 tablespoon butter in a large nonstick skillet over medium-high heat. Add chicken; cook 3 minutes on each side or until done. Remove chicken from pan; keep warm.
4. Melt 1 tablespoon butter in skillet over medium-high heat. Add garlic, leek, and remaining 1/4 teaspoon salt; sauté 4 minutes. Add broth and juice; cook 2 minutes or until liquid is reduced by half. Remove from heat; stir in remaining 1 tablespoon butter. Add pasta to leek mixture; toss well to combine. Serve chicken over pasta mixture; sprinkle with parsley.
Nutritional Information:
Calories: 474
Fat: 11.5g (sat 6.2g,mono 2.7g,poly 0.9g)
Protein: 46.8g
Carbohydrate: 44g
Fiber: 2.3g
Cholesterol: 121mg
Iron: 3.8mg
Sodium: 592mg
Calcium: 57mg
Big Flavors Rating: 3 Stars