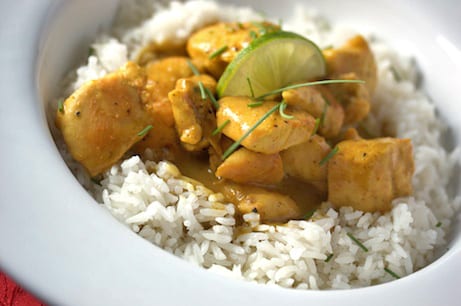 This post may contain affiliate links. Thank you for supporting the brands that keep me creative in my tiny kitchen!
I saw a post on Good Things Catered and realized that I had everything on hand to make it for dinner. It was pretty simple to put together, and was really tasty. I didn't bother flipping each piece of chicken individually, I just stirred the chunks around every once in a while until they were browned all over. The end result was good – but I think I accidentally over-salted it. I served it over some leftover Jasmine rice. I also threw a few chives on top to try to add a bit more color. It was nice to have a mild onion-y flavor with the chicken.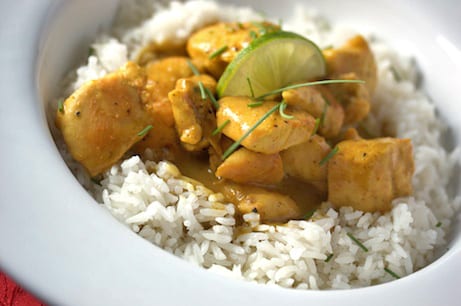 Chicken Curry Bowl
Good Things Catered
Ingredients:
2 c. brown rice
2 Tbsp olive oil
4 large boneless, skinless chicken breasts
1 c. chicken stock
1 c. milk
2 1/2 Tbsp of your favorite curry powder
juice of 1/2 lime
2 tsp cornstarch
2 tsp water
1/2 tsp salt, plus more for seasoning
1/2 tsp ground black pepper, plus more for seasoning
1/2 tsp granulated garlic
1/4 tsp paprika
Directions:
-Prepare brown rice according to directions.
-Meanwhile, cut chicken breast pieces into 2-inch pieces and place into large bowl
-Season with salt, pepper, garlic and paprika, tossing to combine well.
-In large skillet over medium high heat, add oil and heat until almost smoking.
-Add chicken pieces and cook until bottoms start to brown slightly, about 5 minutes.
-Flip each piece and cook until pieces begin to brown on other side, about 5 minutes.
-Continue cooking, stirring occasionally until cooked through, about 2-5 more minutes depending on size.
-Remove chicken from pan and set aside.
-Add chicken stock to pan, still over medium high heat, scraping all browned bits up from bottom.
-Add milk and then curry powder, mixing constantly to combine.
-Add lime juice, and then all of chicken pieces, including juices from dish.
-In small bowl, combine cornstarch and water.
-Pour cornstarch mixture into pan and stir constantly to combine well.
-Mixture should slightly thicken.
-Cook, stirring occasionally until chicken is heated well throughout, about 2 minutes.
-Remove from heat, salt and pepper if needed and serve over rice.
Serves 4
MacGourmet Rating: 3 Stars