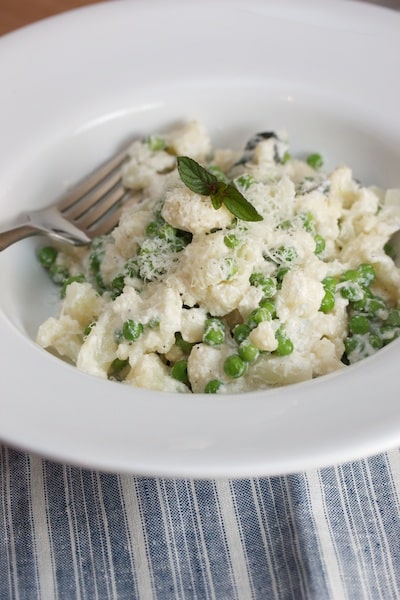 Cauliflower 'Pasta' with Peas & Ricotta
This post may contain affiliate links. Thank you for supporting the brands that keep me creative in my tiny kitchen!
I saw this post over on stone soup, and thought it looked like a simple and delicious meal. Dino had requested some low carb meals, so this looked perfect. It was really easy to put together, and seasoned up with enough salt and pepper, it made for a really nice alternative to a pasta dinner. The mint was a nice way to add some freshness to the dish. I added the parmesan at the end with the ricotta and stirred it all together. The ricotta makes this dish nice and creamy. Yum!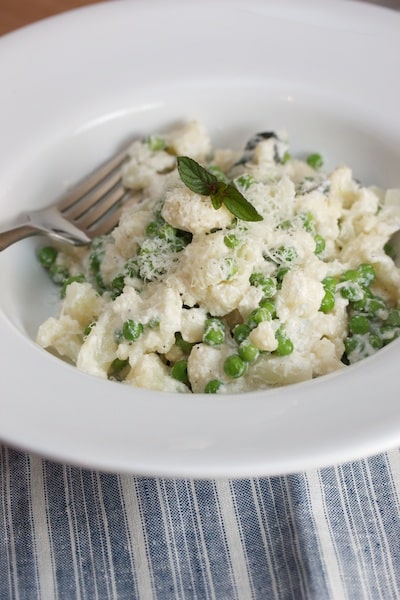 Cauliflower 'Pasta' with Peas & Ricotta
Stone Soup
serves 2
1/2 head cauliflower, chopped into tiny trees
250g (1/2 lb) frozen peas
1/2 bunch mint, leaves picked
250g (1/2 lb) ricotta
2 handfuls grated parmesan cheese
1. Bring a medium saucepan of salted water to the boil.
2. Simmer cauliflower for 10 – 12 minutes, or until tender,
3. Meanwhile, heat a few tablespoons extra virgin olive oil in another saucepan. Cook peas over a medium high heat for 5 – 8 minutes, or until peas are tender and starting to go a little wrinkly.
4. Remove from the heat and stir through the mint.
5. Drain cauli and return the peas to the heat.
6. Toss cauli in with the peas and add ricotta. Stir until ricotta is heated and coating everything. Taste & season.
Big Flavors Rating: 4 Stars