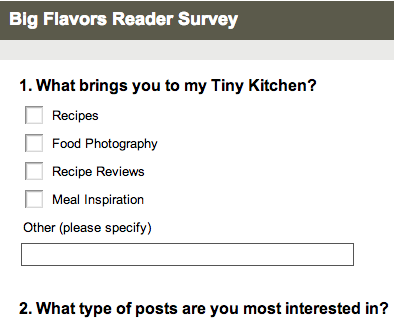 Big Flavors Reader Survey
Wow. February was a big month for me. I got more traffic than ever here on Big Flavors From A Tiny Kitchen! I've received a lot of great questions and feedback from people, and I just wanted to say a big THANK YOU!! I would have never dreamed that people would be so interested in what I've been up to in my tiny kitchen, and it's been a lot of fun!
I thought now would be a good time to ask my readers to take a super quick (pinky swear!) survey to let me know what it is that you enjoy about my blog, and if there's anything else you'd like to see. It's always nice to have an outside perspective on what brings people here, and maybe even get some new ideas for things to whip up in the weeks to come!
So, please take a moment to answer the 5 questions below. I'd really appreciate it! If the embedded survey doesn't work for you, Click here to take survey instead.
Thank you so much for your feedback, and for sticking with me for the last 6 1/2 years! 🙂