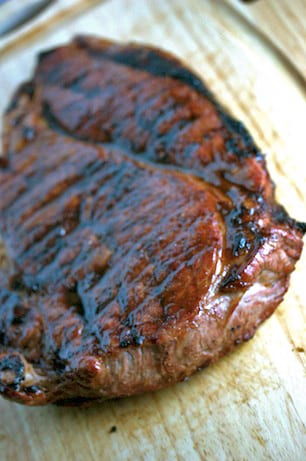 Beer and Brown Sugar Steak Marinade
This post may contain affiliate links. Thank you for supporting the brands that keep me creative in my tiny kitchen!
This is our favorite steak recipe for the grill. I found it a few years ago and have been making it ever since. It's a really quick marinade, and it's insanely flavorful. I highly recommend it!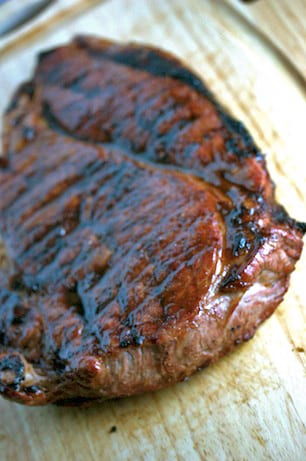 Beer and Brown Sugar Steak Marinade
allrecipes.com – Craig Jones
"I concocted this marinade on a lark and it turned out great. The flavors complement and do not overwhelm the natural taste of beef."
4 servings
PREP TIME 30 Min
COOK TIME 15 Min
READY IN 1 Hr 10 Min
2 (16 ounce) beef sirloin steaks
¼ cup dark beer
2 tablespoons teriyaki sauce
2 tablespoons brown sugar
½ teaspoon seasoned salt
½ teaspoon black pepper
½ teaspoon garlic powder
1. Preheat grill for high heat.
2. Use a fork to poke holes all over the surface of the steaks, and place steaks in a large baking dish. In a bowl, mix together beer, teriyaki sauce, and brown sugar. Pour sauce over steaks, and let sit about 5 minutes. Sprinkle with 1/2 the seasoned salt, pepper, and garlic powder; set aside for 10 minutes. Turn steaks over, sprinkle with remaining seasoned salt, pepper, and garlic powder, and continue marinating for 10 more minutes.
3. Remove steaks from marinade. Pour marinade into a small saucepan, bring to a boil, and cook for several minutes.
4. Lightly oil the grill grate. Grill steaks for 7 minutes per side, or to desired doneness. During the last few minutes of grilling, baste steaks with boiled marinade to enhance the flavor and ensure juiciness.
MacGourmet Rating: 5 Stars