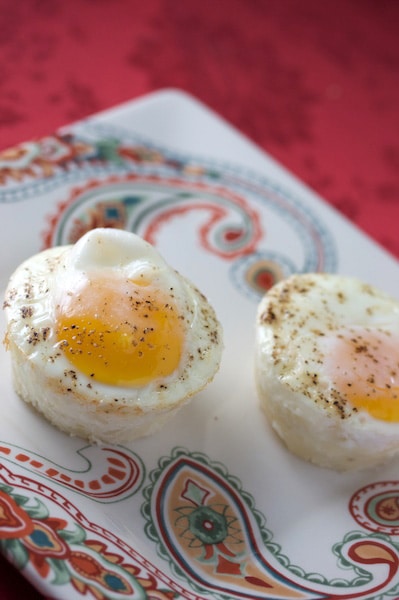 Iraqi Baked Eggs with Mashed Potatoes
I picked up this book from the library and thought it looked like a good resource. I don't believe I've ever had Iraqi food, although I'm sure I've had similar items and other Middle Eastern cuisines. I thought I'd start off easy with this breakfast recipe because the combination of mashed potatoes and eggs looked really comforting. It's a little more difficult than it looks to work with the cupcake tin because you have to put a really thin layer of mashed potatoes in each cup in order to have the egg fit on top without overflowing. I don't like runny egg whites, so I ended up overcooking the yolks a bit.
It's also tricky when you go to take the "cupcake" out of the tin — I used a knife to loosen the edges and then turned the pan upside down. It tasted really good, but was really frustrating to make. I think that poaching eggs and putting them on top of little piles of mashed potatoes would be easier. In fact, in the picture in the book, it looks like they used piles on a cookie sheet. There were a couple variations on this recipe — one was baked eggs with tomato, one was baked eggs with meat, in one was baked eggs with spinach.
I'm looking forward to trying other recipes from this book, but I'll probably try out a lunch or dinner recipe next.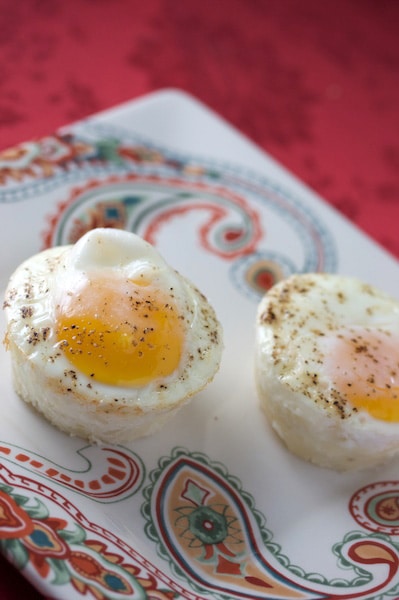 Baked Eggs with Mashed Potatoes
The Iraqi Cookbook – Lamees Ibrabim
Serves 3 – 4
1 1/2 lb/ 3 cups of mashed potatoes
6 eggs
Salt and pepper to taste
Boil and mash the potatoes. Add salt, pepper, and one egg; mix well.
Grease a cupcake pan, line each cup with a layer of mash, crack an egg in each, sprinkle with salt and pepper, bake until the eggs are cooked. Serve hot.
MacGourmet rating: 4 stars