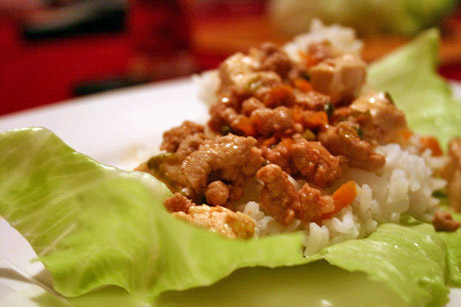 This post may contain affiliate links. Thank you for supporting the brands that keep me creative in my tiny kitchen!
These lettuce wraps are different because they have pork and tofu inside. I'm used to either meat or tofu in lettuce wraps, not both. We thought they were pretty good. Dino loved them.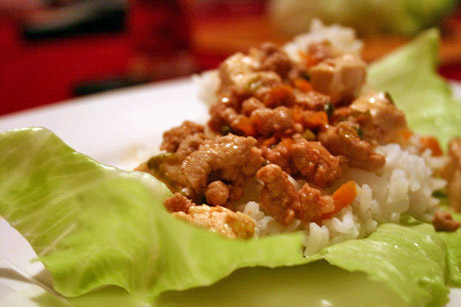 Asian Lettuce Wraps
allrecipes.com – sandii
4 cups water
2 cups uncooked white rice
1 tablespoon vegetable oil
1 lb. ground pork
1 bunch green onions, thinly sliced
½ teaspoon minced garlic
1 (14 ounce) package firm tofu, drained and cubed
2 carrots, shredded
3 tablespoons hoisin sauce
2 tablespoons soy sauce
1 teaspoon sesame oil
¼ teaspoon hot chile paste
1 head iceberg lettuce leaves, separated
Prep Time: 15 Minutes
Cook Time: 32 Minutes
Ready In: 47 Minutes
Servings: 4
"Flavorful stir-fried pork, tofu, and green onion are rolled into a lettuce wrap with steamed rice. Serve family style at the table, and let everyone wrap their own."
1. In a saucepan combine the water and rice. Bring to a boil, cover, and reduce heat to a simmer. Simmer for 20 minutes, until water is absorbed. Set aside and keep warm.
2. Heat oil in a wok over medium-high heat. Cook the pork, green onions, and garlic for 5 to 7 minutes, or until lightly brown. Add the tofu, carrot, Hoisin, and soy sauce, stirring frequently until heated through. Remove from heat, and stir in the sesame oil and chile paste.
3. To serve: spoon a small amount of rice into each lettuce leaf, top with the stir-fry mixture, and drizzle with additional soy sauce or hoisin, if desired. Wrap the lettuce leaf to enclose the filling.
MacGourmet Rating: 4 Stars