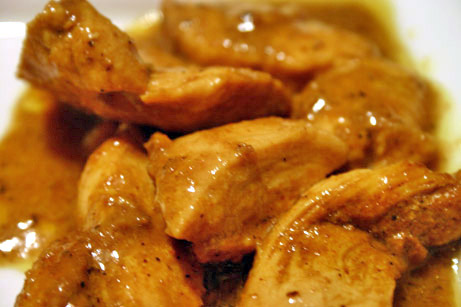 Caribbean Chicken Curry | Green Gobble-'Ems Garlic Bread Chunks | Caribbean Rice and Beans
This post may contain affiliate links. Thank you for supporting the brands that keep me creative in my tiny kitchen!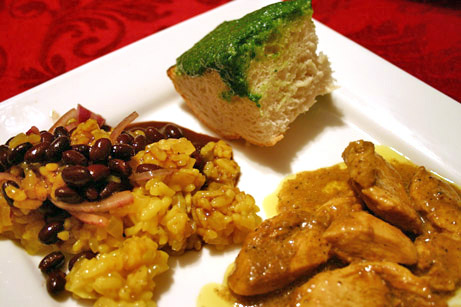 This dinner was a HUGE hit! My house smelled like curry for a week, but it was so worth it. The chicken dish was super quick to put together! It had a lot of liquid, so I think it'd be great served over plain rice to soak up some of the sauce.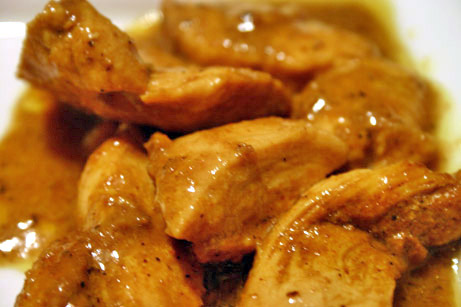 Caribbean Chicken Curry
The 5 in 10 Cookbook – Paula Hamilton
1 1/2 lbs. skinless, boneless chicken breasts
3 TB oil
3 TB curry powder
1 cup unsweetened coconut milk
1/4 tsp salt
2 TB lime juice
Cut the chicken into 1/2″ wide strips. Heat the oil in a large frying pan over high heat. Add the chicken and curry powder. Cook over high heat, stirring occasionally, until the chicken begins to brown, about 4 minutes.
Reduce the temperature to medium and stir in the coconut milk. Cook, stirring occasionally, until the sauce begins to thicken slightly, about 4 minutes longer. Season with the salt. Then stir in the lime juice. Cook for 1 minute longer, then serve. Makes 4 servings.
MacGourmet Rating: 5 Stars
---
I saw this on an episode of 30-Minute Meals, and I thought it looked really good. I used soy butter so that Dino would be able to enjoy it, and it was fantastic! I froze half of it before I baked it so that I'd have it handy for another night. The next time I make this (and I will make it again!) I'll cut the bread into smaller chunks before cooking it so that it gets extra crusty.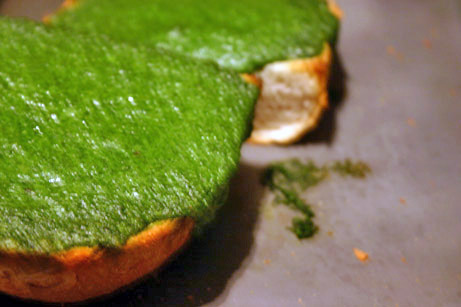 Green Gobble-'Ems Garlic Bread Chunks
Rachael Ray
4 cups spinach leaves, stemmed
4 cloves garlic, cracked from skins
1 stick softened butter
Salt and pepper
1 cup grated Parmigiano-Reggiano
1 loaf good quality Italian bread
Prep Time: 10 minutes
Cook Time: 5 minutes
Yield: 6 servings
Preheat broiler or set oven to 400 degrees F.
Place the spinach in a food processor with garlic, butter, salt and pepper and cheese and process, scraping the mixture down if necessary.
Halve bread lengthwise and slather it with spinach butter. Broil or bake to crisp, 3 minutes under broiler, 6 to 7 minutes in hot oven.
Cut into large cubes and serve with pasta.
MacGourmet Rating: 5 Stars
---
This side dish was REALLY great! The rice gets really creamy, and the bean mixture is heavenly! I would have never thought that leting a can of beans marinate in balsamic with some onions could give them that much flavor, but WOW! It made way more than 4 servings though, so keep that in mind if you decide to make it.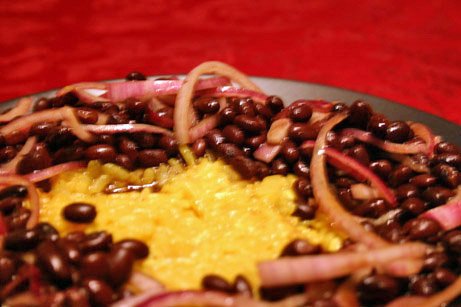 Caribbean Rice and Beans
Bon Appétit
4 Servings
15 ounce can black beans
½ large red onion, very thinly sliced
2 tablespoons balsamic vinegar
1 tablespoon olive oil
1 white onion, finely chopped
4 large garlic cloves, chopped
1 cup Arborio rice
3 ½ cups unsalted chicken broth
½ cup dry white wine
2 large bay leaves
½ teaspoon turmeric
⅛ teaspoon (or more) cayenne pepper
Combine first 3 ingredients in medium bowl. Let stand 30 minutes, stirring occasionally. Season with salt and pepper. Meanwhile, heat oil in heavy medium saucepan over high heat. Add onion and garlic and sauté until translucent, about 5 minutes. Add rice and stir 1 minute to coat with onion mixture. Add broth, wine, bay leaves, turmeric and cayenne pepper and blend well. Bring mixture to boil; stir well.
Reduce heat to medium and simmer until rice is tender and mixture is creamy, stirring occasionally, about 25 minutes. Season to taste with salt, pepper and cayenne.
Spoon rice onto platter. Arrange beans and onion garnish alongside.
Nutritional notes:
Per serving: calories, 230; fat, 4 g; sodium, 49 mg; cholesterol, 0 mg
MacGourmet Rating: 5 Stars