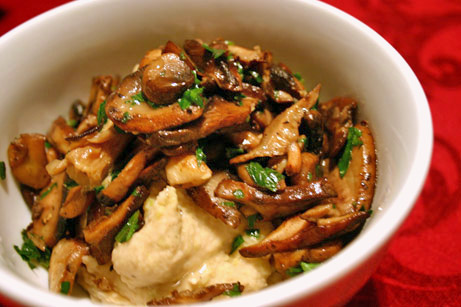 Truffled Wild Mushrooms Over Whipped White Beans
This post may contain affiliate links. Thank you for supporting the brands that keep me creative in my tiny kitchen!
This dish was really good! I cut the recipe in half since there are only two of us and wild mushrooms are really expensive. It was pretty easy to put together, but I'd recommend it as a side dish rather than a main. I'm not a vegetarian so this left me not quite full as the main course. The beans are a nice alternative to the usual starches that I use.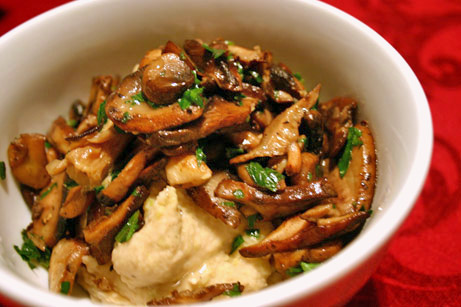 Truffled Wild Mushrooms Over Whipped White Beans
Vegetarian Times April 2007
Truffle oil and earthy wild mushrooms turn a simple ragoût into a sublime main dish. Truffle oil is a worthwhile investment. A few drops can transform roasted vegetables, bean dishes and even a plain ol' bowl of mashed potatoes.
Serves 4
2 teaspoons olive oil, divided
1 medium leek, white and pale green parts chopped (about 1/2 cup)
2 15-oz. cans cannellini beans, rinsed and drained
½ cup low-sodium vegetable broth
2 cloves garlic, minced (about 2 tsp.)
2 teaspoons fresh thyme, chopped
1 lb. wild mushrooms, halved
¼ cup fresh parsley, chopped
2 teaspoons truffle oil
1. Heat 1 tsp. oil in large skillet over medium heat. Add leek and sauté 2 minutes. Stir in beans, broth, garlic and thyme. Cover, reduce heat to low, and simmer 8 minutes. Season with salt and pepper. Transfer bean mixture to food processor and blend until creamy and smooth. Return to skillet, cover and keep warm.
2. Heat remaining 1 tsp. oil in medium skillet over high heat. Add mushrooms and sauté 8 minutes, or until soft and brown. Season with salt and pepper, and stir in parsley.
3. Spoon whipped bean mixture into shallow bowls. Top with equal portions of mushrooms. Drizzle each serving with 1/2 tsp. truffle oil, and serve.
Nutritional notes:
Calories: 299, Protein: 15g, Total fat: 7g, Carbs: 46g, Cholesterol: mg, Sodium: 691mg, Fiber: 17g, Sugars: 2g
MacGourmet Rating: 4 Stars