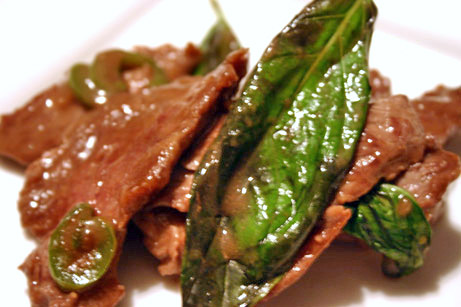 Bold Basil Beef | Lemon-Mint and Tabbouleh Salad
This post may contain affiliate links. Thank you for supporting the brands that keep me creative in my tiny kitchen!
This beef dish was SO simple to put together and SO flavorful. It"s perfect for a busy weeknight, and I'll definitely make it again!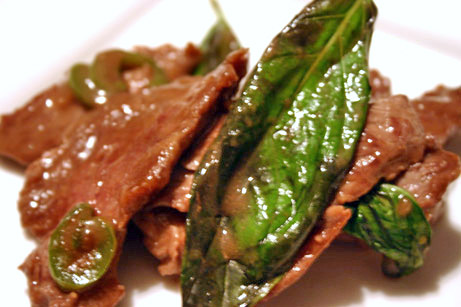 Bold Basil Beef
Martin Yan
Marinade
1 TBL dark soy sauce
1 TBL cornstarch
1 lb. flank steak sliced thinly against the grain
1 TBL Vege Oil
1 shallot walnut sized thinly sliced into rings
1 jalapeno thinly sliced into rings
½ cup lightly packed Basil leaves or Thai Basil
Mix the marinade and beef and let stand for 10 mintues.
Place stir fry pan over high heat until hot. Add the oil swirling to coat sides. Add shallot and jalapeño stirring until fragrant, about 20 seconds. Add the beef and stir fry until barely pink in the center. Remove from heat and stir in the basil.
MacGourmet Rating: 5 Stars
---
The side dish I made was really good too, but a little more involved because it has to sit for a while.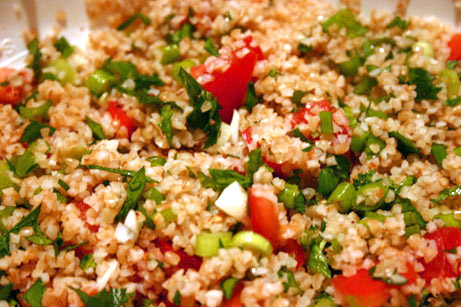 Lemon-Mint and Tabbouleh Salad
Bon Appétit March 2002
¼ cup olive oil
¼ cup fresh lemon juice
3 large garlic cloves, minced
1 cup bulgur (cracked wheat)
1 cup boiling water
1 cup chopped seeded plum tomatoes
½ cup chopped fresh Italian parsley
2 large green onions, chopped
2 tablespoons chopped fresh mint
Whisk oil, lemon juice, and garlic in small bowl to blend; set aside. Place bulgur in large bowl. Mix in 1 cup boiling water. Let stand until bulgur is tender and water is absorbed, about 15 minutes. Mix in tomatoes, parsley, green onions, and mint. Add oil mixture; toss to blend. Season with salt and pepper. Let stand at least 30 minutes to blend flavors. (Can be made 1 day ahead. Cover; chill.)
Makes 6 servings.
MacGourmet Rating: 4 Stars