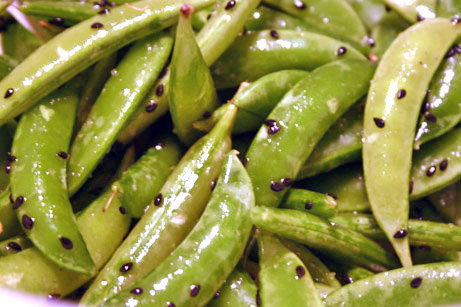 Pumpkin Ravioli with Toasted Pumpkin Seeds | Sugar Snap Peas with Sesame
This post may contain affiliate links. Thank you for supporting the brands that keep me creative in my tiny kitchen!
I made these ravioli last week and they turned out fantastic! Just be sure to let the melted butter coat them as they come out of the water or you'll end up with one giant sticky mess.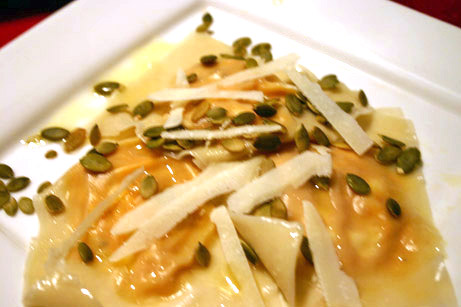 Pumpkin Ravioli with Toasted Pumpkin Seeds
Every Day with Rachael Ray October 2007
Serves 4
1 cup canned pure pumpkin puree
4 ounces cream cheese, softened
¼ cup finely grated parmesan cheese, plus shaved parmesan for serving
1 large egg
Salt and pepper
32 wonton wrappers
¼ cup shelled pumpkin seeds (pepitas), toasted
6 tablespoons butter
1. In a medium bowl, mash together the pumpkin, cream cheese, parmesan, egg and 2 pinches each salt and pepper.
2. Line a baking sheet with parchment paper and set aside. Spoon a tablespoon of the pumpkin-cream cheese filling into the center of 16 wonton wrappers, brush the edges with water, top with the remaining 16 wrappers and press to seal, gently squeezing out the air. Arrange in a single layer on the prepared baking sheet.
3. Bring a pot of salted water to a boil. Meanwhile, in a large skillet, melt the butter; keep warm.
4. Working in 3 batches, cook the ravioli in the boiling water until they float to the surface, about 3 minutes. Using a slotted spoon, add the ravioli to the butter in the skillet and turn gently to coat.
5. Divide the ravioli among 4 plates; season with salt and pepper. Scatter the toasted pumpkin seeds on top and pass the shaved parmesan at the table.
MacGourmet Rating: 5 Stars
---
The side dish that I made was good but nothing special. It definitely gets points for taking almost no effort though!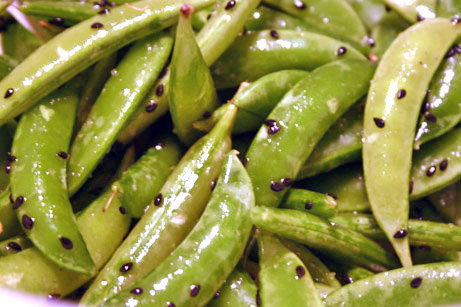 Sugar Snap Peas with Sesame
Barefoot Contessa
1 lb. sugar snap peas
Dark sesame oil
Black sesame seeds
Kosher salt
Prep Time: 19 minutes
Cook Time: 5 minutes
Yield: 5 to 6 servings
Pick through the sugar snap peas to remove any that aren't perfect. Remove and discard the stem end and the string from each pod. Toss the snap peas in a bowl with sesame oil, sesame seeds, and kosher salt, to taste. Serve at room temperature.
Note: If the peas are too tough to eat raw, blanch them in boiling salted water for 5 minutes, drain immediately, and then immerse them in ice water before starting the recipe.
MacGourmet Rating: 3 Stars