This post may contain affiliate links. Thank you for supporting the brands that keep me creative in my tiny kitchen!
I've been wanting to make this recipe for a while now, but it took forever to find frozen blackberries. I almost made them with frozen raspberries, but then I was out of milk. So by the time I got around to it, I found blackberries. Anyway, they were WELL worth the wait! They're really messy to make (your hands get all gunky) but they're soooo tasty. I ended up using a 10 ounce bag of blackberries in them. I had one fresh out of the oven, and can't wait to have one for breakfast tomorrow. The only thing I'd do differently next time would be to sprinkle a little raw sugar on the top of them after adding the egg wash.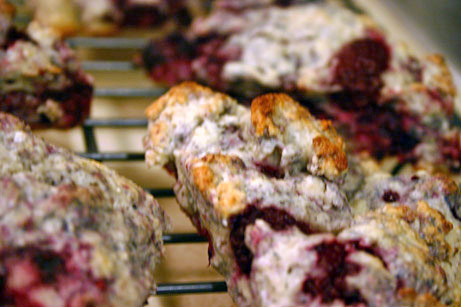 Blackberry Scones
everybodylikessandwiches (Blogger)
½ cup milk
1 egg
2 cups flour
2 teaspoons baking powder
1⁄ 2 teaspoon salt
¼ cup cold butter, cubed
3 tablespoons white sugar
2 large handfuls of frozen blackberries
1. Preheat oven to 425 degrees Fahrenheit. Whisk the milk and the egg together until frothy and then set aside. In a large bowl, blend the flour, baking powder, and salt. Add the butter and blend the mixture with your hands until you have no lumps larger than a pea. Add the sugar and the blackberries and toss about until the blackberries are coated with the flour mixture. Add the egg mixture slowly until the dough comes together. Leave any remaining egg mixture to brush on as glaze.
2. Turn dough out onto a clean counter and knead it no more than 12 times. Pat dough into a round approximately 1/2 an inch thick, and cut into 8 wedges. Place on an ungreased baking sheet or a Silpat. Using a pastry brush, glaze wedges with remaining egg mixture. Bake for 10-15 minutes, or until golden. Cool on a wire rack.
MacGourmet Rating: 5 Stars