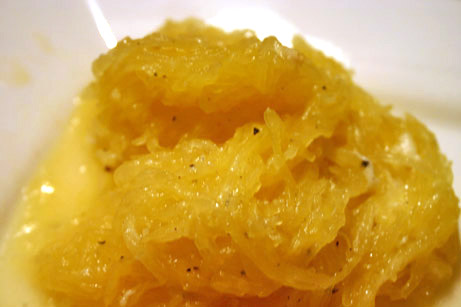 Cheese and Pepper (Cacio e Pepe) Spaghetti Squash
This post may contain affiliate links. Thank you for supporting the brands that keep me creative in my tiny kitchen!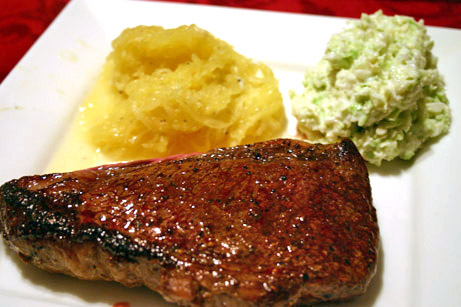 I finally got back to the Ossining Farmers' Market on Saturday and got a beautiful piece of steak, a spaghetti squash and a head of cabbage (among other things) to work witih.
We had planned to grill the steak since it was so warm out, but by the time we were ready for dinner, it had gotten pretty chilly, so instead, Dino seasoned the steak and seared it in the cast iron skillet, and then transferred it to the oven to finish cooking. He made a horseradish & dill mayo dipping sauce for it which was awesome.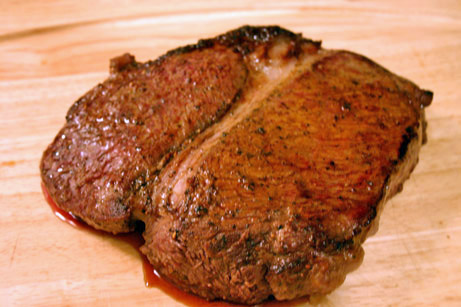 I made my mom's cole slaw recipe again, but this was my first time making it with such a beautiful head of cabbage. It rocked. But then, there was the squash. Eh…..it was bland. I wouldn't recommend it. I don't really have much more to say about it.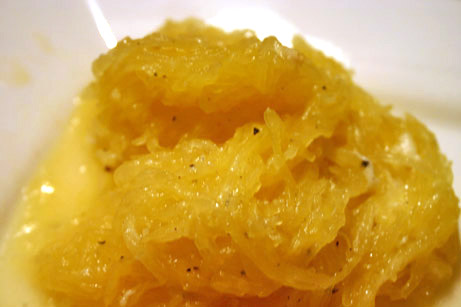 Cheese and Pepper (cacio E Pepe) Spaghetti Squash
Rachael Ray
1 pound) (4 spaghetti squash
2 tablespoons extra virgin olive oil
1 cup grated Romano
Salt and lots of coarsely ground black pepper
Prep Time: 7 minutes
Cook Time: 13 minutes
Yield: 4 appetizer or side dish servings, or 2 main course servings
To microwave squash, cut in half and seed. Place 1/4-inch water in a microwave safe dish. Place squash in dish, cut sides down — sides will overlap. Cover with plastic wrap and microwave on high power 13 minutes. Reserve 1/2 cup liquid in a bowl. Shred squash and add the "spaghetti" to bowl with liquid.
To boil squash: cut in half and scrape out seeds. Boil squash until tender, 15 to 20 minutes. Place 1/2 cup cooking water into a bowl, then drain and shred the squash. Transfer to a bowl with reserved liquid.
Toss squash with reserved liquid and dress with extra-virgin olive oil, lots of cheese, salt to taste, and lots of black pepper. Serve.
MacGourmet Rating: 2 Stars