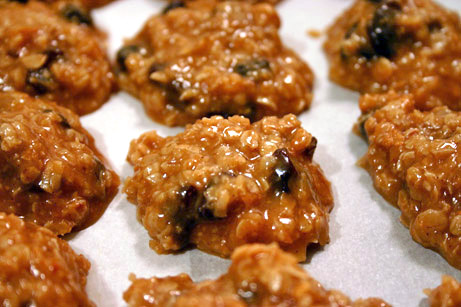 Peanut Butter & "Jelly" Cookies
This post may contain affiliate links. Thank you for supporting the brands that keep me creative in my tiny kitchen!
These cookies sounded like they'd be awesome, and they were really close! I was planning to send them to work with Dino to give to his coworkers, but they didn't harden up enough to survive the train ride to NYC. They taste wonderful, but I think maybe you should use more oats so they're a little firmer, or chunky peanut butter. Aside from them being a little messy when you eat them, they taste awesome with a nice glass of milk.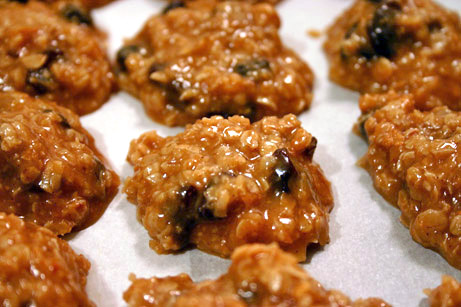 Peanut Butter & "Jelly" Cookies
Justbraise.com
1 stick butter
½ cup milk
1-½ cups sugar
2 cups quick cook oatmeal
¾ cup peanut butter (chunky or smooth)
1 cup raisins
1 teaspoon cinnamon
Serving Size = about 30 cookies.
Active time = 10 minutes.
Inactive time = about 20 minutes.
1) In a saucepan over medium-high heat, warm the butter, milk and sugar. Bring to a boil and stir constantly for 1 minute.
2) Place butter-milk-sugar mixture in a large bowl, add oatmeal and peanut butter. Stir until evenly mixed, working larger globs out of the peanut butter.
3) Add raisins and cinnamon, stir again until evenly mixed.
4) Cover a cookie sheet with parchment paper. Scoop equal spoonfuls on the cookie sheet, space just so they are not touching (they will not move much once placed).
5) Refrigerate until hardened, about 20 minutes.
Note: The top 4 ingredients are the base of this cookie batter. From there, you can make chocolate cookies by stirring in 1/4-1/2 cup cocoa, add chocolate chips, make a fruit-nut based cookie, add some lemon zest, juice and ginger for a more puckery treat, or whatever else you can think of.
MacGourmet Rating: 4 Stars