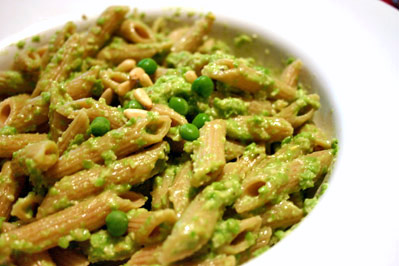 This post may contain affiliate links. Thank you for supporting the brands that keep me creative in my tiny kitchen!
I was really excited for this dish because I love peas, but it just kinda fell flat. The pesto just wasn't that flavorful. I'm not sure that pesto can really be successful without some sort of herb in it. But hey, it was quick and easy so at least it wasn't a total waste of time.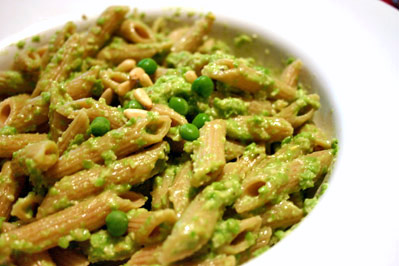 Penne with Pea Pesto
Gourmet July 2007
1 package (10-ounce) frozen peas
2 large garlic cloves
½ cup pine nuts (2 ounce)
½ cup grated Parmigiano-Reggiano plus additional for serving
⅓ cup olive oil
1 lb. penne
Cook peas on the stove or in a microwave according to package directions, then drain well.
With food processor running, drop in garlic and finely chop. Turn off motor and add peas, nuts, cheese, 1/2 teaspoon salt, and 1/2 teaspoon pepper, then process until finely chopped. With motor running, add oil, blending until incorporated.
Meanwhile, cook pasta in a large pasta pot of boiling salted water (3 tablespoons salt for 6 quarts water) until al dente. Reserve 1 cup pasta-cooking water, then drain pasta in a colander.
Toss pasta with pea pesto and thin as desired with reserved cooking water. Season with freshly ground pepper.
Makes 4 to 6 servings.
MacGourmet Rating: 2 Stars