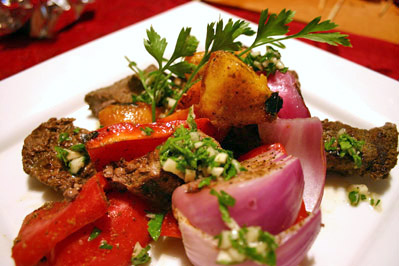 Grilled Sirloin Skewers with Peaches and Peppers
This post may contain affiliate links. Thank you for supporting the brands that keep me creative in my tiny kitchen!
Tonight's dinner was really good! If MacGourmet had half stars, it would get 4.5, but it doesn't, so it's getting a 4. The spices on the meat really make it lively, and topping it with the sauce (which is very similar to a family recipe for chimichurri) was a great contrast to the smoky cumin. I skewered the meat, veggies and fruit separately so that they would cook evenly, and I grilled them up pretty quickly on the Griddler. It's a pretty fast weeknight meal, and we really enjoyed it!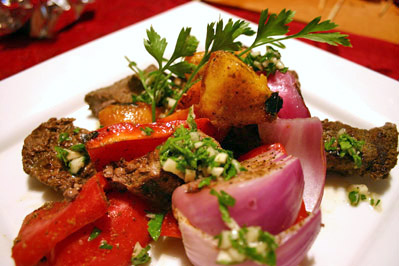 Grilled Sirloin Skewers with Peaches and Peppers
Cooking Light August 2002
Kebabs:
1 ½ tablespoons ground cumin
1 ½ tablespoons cracked black pepper
2 ¾ teaspoons kosher salt
2 lbs. boneless sirloin steak, cut into 48 (1-inch) pieces
4 peaches, each cut into 8 wedges
2 small red onions, each cut into 8 wedges
2 large red bell peppers, each cut into 8 (1-inch) pieces
Cooking spray
Sauce:
½ cup chopped fresh parsley
¼ cup red wine vinegar
1 teaspoon olive oil
¼ teaspoon kosher salt
¼ teaspoon cracked black pepper
3 cloves, garlic minced
Parsley sprigs (optional)
Prepare grill.
To prepare kebabs, combine first 7 ingredients; toss well. Thread 3 steak pieces, 2 peach wedges, 1 onion wedge, and 1 bell pepper piece alternately onto each of 16 (12-inch) skewers. Place kebabs on grill rack coated with cooking spray; grill 6 minutes or until tender, turning occasionally. Place kebabs on a platter; cover loosely with foil. Let stand 5 minutes.
To prepare sauce, combine chopped parsley and next 5 ingredients (chopped parsley through garlic), stirring with a whisk. Spoon over kebabs. Garnish with parsley sprigs, if desired.
Yield: 8 servings (serving size: 2 kebabs)
Nutritional information per serving:
CALORIES 217 (30% from fat); FAT 7.2g (sat 2.4g,mono 3g,poly 0.4g); PROTEIN 25.5g; CHOLESTEROL 69mg; CALCIUM 38mg; SODIUM 768mg; FIBER 3.2g; IRON 3.8mg; CARBOHYDRATE 12.4g
MacGourmet Rating: 4 Stars