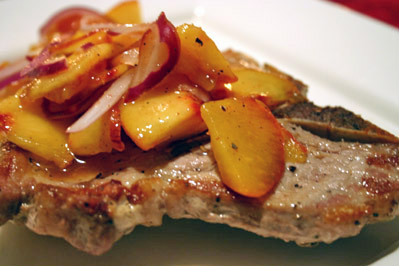 Peach and Red-Onion Relish | Grilled Pork Chops
This dish was excellent! I was really surprised how much of a difference it made to soak the onions. It really made the flavor nice and mild, and the heat from the cayenne really made the sweetness of the peaches shine. This would be good on other meats too, but I made the pork chops as suggested in the recipe below it in the issue. It was pretty quick and really tasty!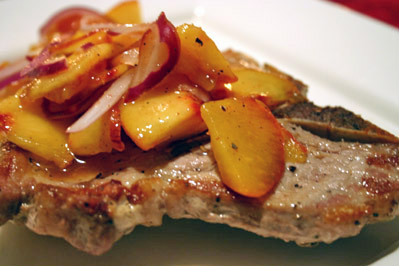 Peach and Red-Onion Relish
Everyday Food August 2007
Serves 4
Prep Time: 10 Minutes
Total Time: 25 Minutes
1/4 small red onion, very thinly sliced
2 ripe peaches (4 1/2 ounces each), quartered and very thinly sliced
1 tablespoon honey
1 tablespoon fresh lemon juice
1/4 teaspoon cayenne pepper
coarse salt and ground pepper
In a small bowl of ice water, soak onion for 10 minutes; drain, blot dry, and return to bowl. Add peaches, honey, lemon juice, and cayenne; season with salt and pepper. Let stand 15 minutes. Serve on grilled pork, chicken, or fish. If storing, cover and refrigerate up to 1 day.
---
Grilled Pork Chops
Everyday Food August 2007
Heat grill to medium-high; lightly oil grates. Season 4 bone-in pork chops (10 to 12 ounces each) with coarse salt and ground pepper. Grill, turning once, until cooked through, 10 to 12 minutes. Serves 4
MacGourmet Rating: 5 Stars