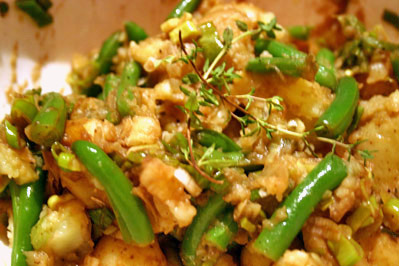 Balsamic Potato and Green Bean Salad
This post may contain affiliate links. Thank you for supporting the brands that keep me creative in my tiny kitchen!
I'm finally getting to updating with the dishes that I made 2 weeks ago. This potato salad was really good! It was great leftover too. I really like the combination of beans, potatoes, and balsamic. It's a pretty solid side dish.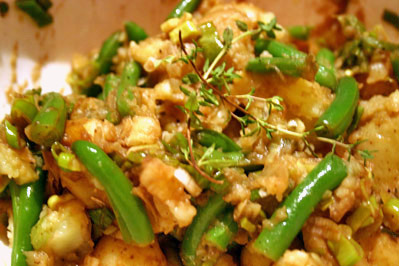 Balsamic Potato and Green Bean Salad
Every Day with Rachael Ray June-July 2007
EIGHT SERVINGS
Prep Time: 10 min
Cook Time: 20 min
1 1/2 pounds small new potatoes
Salt
10 ounces green beans, trimmed and halved crosswise
2 tablespoons balsamic vinegar
1 tablespoon fresh lemon juice
1/2 teaspoon sugar
1/4 teaspoon Dijon mustard
1/4 teaspoon pepper
1/2 cup extra-virgin olive oil
4 scallions, thinly sliced
2 teaspoons chopped fresh thyme, plus whole sprigs for garnish
1. In a large saucepan, place the potatoes, 2 teaspoons salt and enough water to cover by 1 inch. Bring to a simmer and cook until the potatoes are tender, 12 to 15 minutes. Add the green beans and cook for 3 minutes. Drain and let stand.
2. Meanwhile, in a large bowl, combine the vinegar, lemon juice, sugar, mustard, pepper and 1 teaspoon salt. Whisk in the olive oil until combined.
3. Toss the potatoes and beans with the dressing to coat. Using a fork, mash several potatoes. Toss in the scallions and thyme.
Season with more salt and pepper to taste and top with thyme sprigs. Serve warm or at room temperature.
MacGourmet Rating: 4 Stars