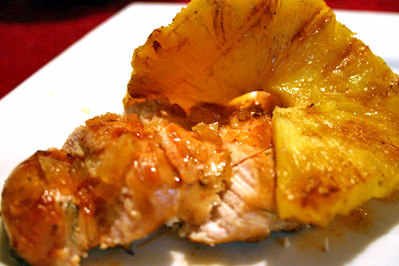 Spicy Honey-Glazed Chicken Breasts | Lemon-Chive Potato Salad
This post may contain affiliate links. Thank you for supporting the brands that keep me creative in my tiny kitchen!
I made this dish about 2 weeks ago, but haven't had time to update. It turned out OK, but nothing special. The sauce was really good (although it didn't look anywhere NEAR as dark as the photo in the magazine did), so I used it as a dipping sauce and that really helped the flavor out. And it's hard to go wrong with grilled pineapple!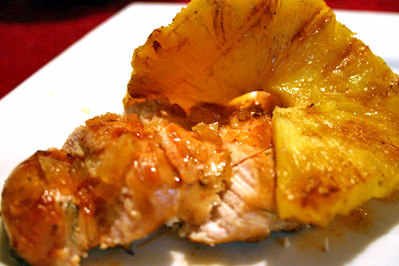 Spicy Honey-Glazed Chicken Breasts
Every Day with Rachael Ray June-July 2007
¼ cup extra-virgin olive oil
1 small onion, finely chopped
1 clove garlic, finely chopped
½ cup honey
2 teaspoons hot pepper sauce
½ teaspoon chili powder
1 teaspoon lemon juice
8 skinless boneless chicken breast halves, (about 4 pounds)
salt
1 pineapple, peeled, cored and cut into 8 thick rings
1. In a small saucepan, heat 1 tablespoon olive oil over medium heat. Add the onion and garlic and cook, stirring, until translucent and beginning to brown, 6 to 8 minutes. Add the honey, hot pepper sauce and chili powder and simmer for 1 minute. Remove from the heat, stir in the lemon juice and set aside.
2. Preheat a grill or large grill pan to medium-high. Rub the chicken with the remaining 3 tablespoons olive oil and season with salt. Grill until well-marked, about 7 minutes. Flip and cook until the bottoms are well-marked and the chicken is cooked through, another 2 minutes. Transfer to a plate and brush with the reserved honey glaze. Cover with foil and let rest for 5 minutes.
3. Meanwhile, grill the pineapple until well-marked on one side, about 4 minutes, then flip and cook for another 2 minutes. Serve with the chicken.
MacGourmet Rating: 3 Stars
---
I made a potato salad to go on the side, and it was just OK too. Not the best potato salad I've ever had, not the worst, but it was OK. The radishes were different.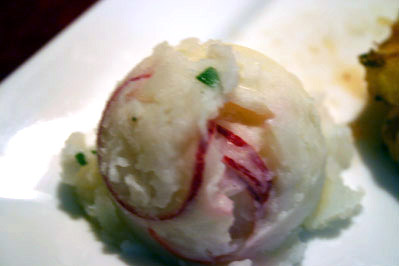 Lemon-Chive Potato Salad
Cooking Light July 2007
4 ½ cups (1/2-inch) cubed peeled baking potato (about 2 pounds)
⅓ cup finely chopped onion
½ cup light mayonnaise
¼ cup chopped fresh chives
3 tablespoons fresh lemon juice
½ teaspoon salt
½ teaspoon freshly ground black pepper
½ cup thinly sliced radishes
Place potato in a large saucepan, and cover with water. Bring to a boil. Reduce heat, and simmer 15 minutes or until tender. Drain. Cool; cover and chill. Stir in onion.
Combine mayonnaise, chopped fresh chives, fresh lemon juice, salt, and freshly ground black pepper in a small bowl, stirring with a whisk. Add mayonnaise mixture to potato mixture; toss gently to coat. Cover and refrigerate 4 hours or overnight. Sprinkle radishes over potato mixture just before serving.
Yield 8 servings (serving size: about 2/3 cup)
Nutritional information per serving:
CALORIES 137(14% from fat); FAT 2.1g (sat 0.5g,mono 0.4g,poly 1.1g); PROTEIN 2.4g; CHOLESTEROL 0.0mg; CALCIUM 11mg; SODIUM 286mg; FIBER 2g; IRON 0.5mg; CARBOHYDRATE 28g
MacGourmet Rating: 3 Stars
Luckily, I have a new appreciation for whiskey and ginger ale, so it was the perfect thing to wash down this so-so meal.