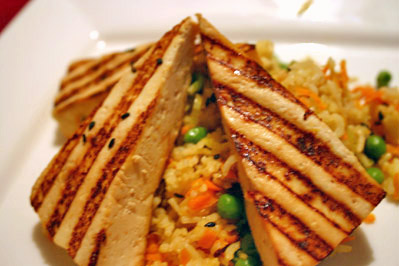 Orange-Glazed Tofu Triangles with Sesame Rice
This post may contain affiliate links. Thank you for supporting the brands that keep me creative in my tiny kitchen!
Tonight's dinner was pretty tasty. It took a while to drain and marinate, but the acutal cooking part wasn't too bad since I already had plain rice cooked in advance. The rice was really good, and the tofu was good, but nothing spectacular. I used black sesame seeds instead of toasted.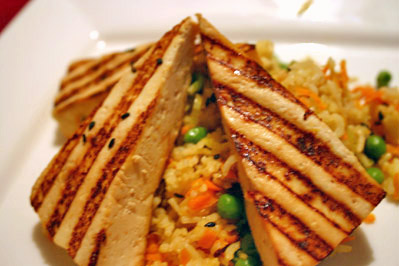 Orange-Glazed Tofu Triangles with Sesame Rice
Cooking Light June 2007
Adding a weight (such as a cutting board) while the tofu drains on paper towels presses liquid out of the tofu, which results in a crispier exterior when cooked on the grill pan. Buy water-packed tofu, not the silken variety.
1 package (12.3-ounce) water-packed extrafirm light tofu
2 tablespoons orange juice
1 tablespoon low-sodium soy sauce, divided
1 ½ teaspoons rice vinegar
1 teaspoon honey
½ teaspoon chili garlic sauce (such as Lee Kum Kee), divided
¼ teaspoon grated peeled fresh ginger
¼ teaspoon salt, divided
Cooking spray
1 teaspoon dark sesame oil
½ cup frozen green peas, thawed
½ cup grated carrot
¼ cup thinly sliced green onions
1 cup hot cooked long-grain rice
1 tablespoon sesame seeds, toasted
Cut tofu in half crosswise; reserve one tofu half for another use. Cut tofu half lengthwise into 3 (3/4-inch-thick) slices; cut each slice in half diagonally. Arrange tofu pieces in a single layer on several layers of heavy-duty paper towels. Cover tofu with additional paper towels; place a cutting board on top of tofu, and let stand 15 minutes.
Combine orange juice, 1 1/2 teaspoons soy sauce, rice vinegar, honey, 1/4 teaspoon chili garlic sauce, and ginger in a shallow dish, stirring with a whisk. Remove cutting board and paper towels from tofu; sprinkle 1/8 teaspoon salt over tofu. Add the tofu slices to the orange juice mixture in dish, turning to coat. Cover and marinate at room temperature 30 minutes, turning tofu slices after 15 minutes.
Heat a grill pan over medium heat. Coat pan with cooking spray. Drain tofu; discard marinade. Add tofu to pan; cook 3 minutes or until lightly browned. Turn tofu over; cook 2 minutes. Set aside; keep warm.
Heat oil in a medium nonstick skillet over medium heat. Add peas, carrot, and onions; cook 2 minutes. Stir in the remaining 1 1/2 teaspoons soy sauce, remaining 1/4 teaspoon chili garlic sauce, and remaining 1/8 teaspoon salt. Add cooked rice; cook 2 minutes or until thoroughly heated. Stir in sesame seeds. Place 1 cup rice mixture on each of 2 plates, and arrange 3 tofu pieces on top of rice.
Yield: 2 servings
Nutritional information per serving:
CALORIES 275 (18% from fat); FAT 5.5g (sat 0.5g,mono 1g,poly 1.4g); PROTEIN 13.6g; CHOLESTEROL 0.0mg; CALCIUM 62mg; SODIUM 660mg; FIBER 4.6g; IRON 3.2mg; CARBOHYDRATE 41.3g
MacGourmet Rating: 4 Stars