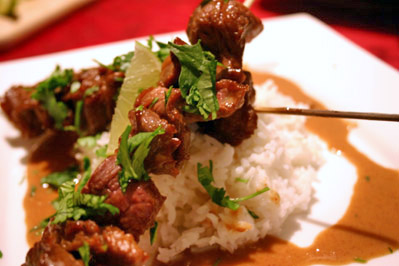 Beef Saté with Peanut Dipping Sauce
This post may contain affiliate links. Thank you for supporting the brands that keep me creative in my tiny kitchen!
Tonight's dinner was AMAZING. It was very quick to make and really tasty. The only change I made was to make basmati rice in the rice cooker instead of boil-in-bag rice. I'll definitely make this one again!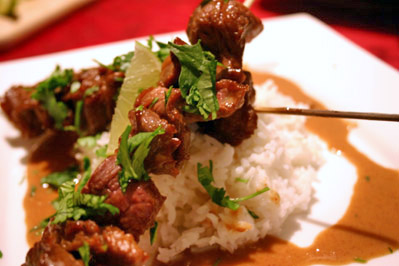 Beef Saté with Peanut Dipping Sauce
Cooking Light June 2007
Flank steak cooks quickly when thinly sliced. The dipping sauce is inspired by traditional Indonesian condiments that often accompany this dish.
1 (3 1/2-ounce) bag boil-in-bag long-grain rice
1 (1-pound) flank steak, trimmed
2 tablespoons hoisin sauce
¼ teaspoon salt
Cooking spray
2 tablespoons chopped fresh cilantro
2 tablespoons light coconut milk
1 tablespoon low-sodium soy sauce
1 ½ tablespoons creamy peanut butter
1 teaspoon sugar
1 teaspoon fresh lime juice
½ teaspoon red curry paste
Preheat broiler.
Cook rice according to package directions, omitting salt and fat. Drain; cover and keep warm.
Cut steak diagonally across grain into 1/4-inch-thick slices. Combine steak and hoisin in a bowl; toss to coat. Thread steak onto each of 8 (8-inch) skewers; sprinkle evenly with salt. Place skewers on a broiler pan coated with cooking spray; broil 3 minutes on each side or until desired degree of doneness. Sprinkle skewers with cilantro.
Combine coconut milk and remaining ingredients in a bowl, stirring until smooth. Serve with skewers and rice.
Yield: 4 servings (serving size: 2 skewers, 1/2 cup rice, and about 1 tablespoon peanut sauce)
Nutritional information per serving:
CALORIES 306 (28% from fat); FAT 9.4g (sat 3.4g,mono 3.8g,poly 1.2g); PROTEIN 27.6g; CHOLESTEROL 37mg; CALCIUM 30mg; SODIUM 503mg; FIBER 1g; IRON 2.8mg; CARBOHYDRATE 26.4g
MacGourmet Rating: 5 Stars