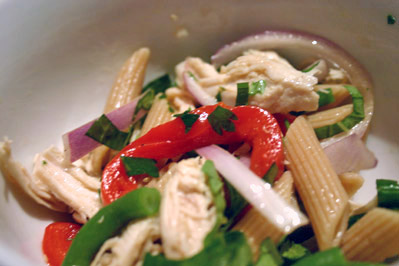 Chicken-Penne Salad with Green Beans
This post may contain affiliate links. Thank you for supporting the brands that keep me creative in my tiny kitchen!
This meal was really light and the veggies were good, but overall it was kind of bland. I think that in order for this to really shine, you'd have to season up your chicken really well. I cooked a bunch of chicken at once and did it pretty plain so that I could make this one night, and a chicken salad for lunch the next day. The chicken salad was much better than the pasta dish.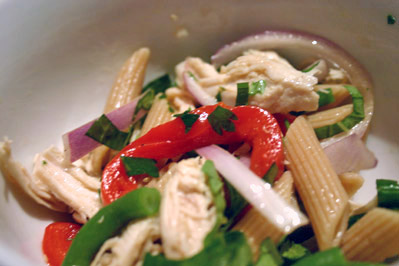 Chicken-Penne Salad with Green Beans
Cooking Light August 2002
To quickly prepare the beans, trim just the stem ends, leaving the tapered blossom ends intact. Line up 5 or 6 beans at a time and cut them roughly the same length as the pasta.
2 cups uncooked penne (tube-shaped) pasta
2 cups (1-inch) cut green beans (about 1/2 pound)
2 cups shredded cooked chicken breast
½ cup vertically sliced red onion
¼ cup chopped fresh basil
1 ½ teaspoons chopped fresh flat-leaf parsley
1 (7-ounce) bottle roasted red bell pepper, drained and cut into thin strips
2 tablespoons extra-virgin olive oil
2 tablespoons red wine vinegar
1 tablespoon cold water
½ teaspoon salt
½ teaspoon bottled minced garlic
¼ teaspoon black pepper
Cook pasta in boiling water 7 minutes. Add green beans; cook 4 minutes. Drain and rinse with cold water; drain.
Combine pasta mixture, chicken, onion, basil, parsley, and bell pepper in a large bowl, tossing gently to combine.
Combine oil and remaining ingredients in a small bowl, stirring with a whisk. Drizzle over pasta mixture; toss gently to coat.
Yield: 4 servings (serving size: 2 cups)
Nutritional information per serving:
CALORIES 384(23% from fat); FAT 9.7g (sat 1.8g,mono 5.7g,poly 1.5g); PROTEIN 26.9g; CHOLESTEROL 49mg; CALCIUM 59mg; SODIUM 866mg; FIBER 2.6g; IRON 3.2mg; CARBOHYDRATE 47.8g
MacGourmet Rating: 3 Stars