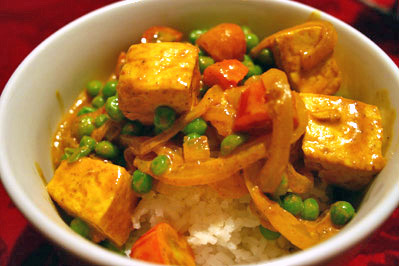 Tofu with Red Curry Paste, Peas, and Yellow Tomatoes
This post may contain affiliate links. Thank you for supporting the brands that keep me creative in my tiny kitchen!
Tonight, I made another tofu dish that turned out to be really tasty. I couldn't find light coconut milk or yellow tomatoes, so I subbed regular coconut milk and some grape tomatoes. It was pretty quick to put together, and surprisingly filling. And it looks pretty!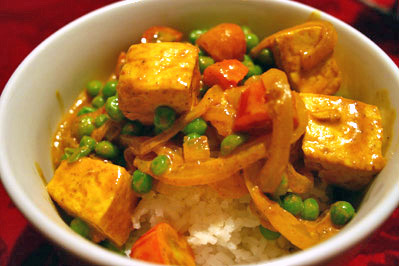 Tofu with Red Curry Paste, Peas, and Yellow Tomatoes
Cooking Light May 2000
Red curry paste can be found in the ethnic or gourmet sections of most large supermarkets. The paste is a blend of clarified butter (ghee), curry powder, vinegar, and other seasonings. Use either Indian or Asian curry paste; it comes in mild and hot versions, so adjust the heat to suit your preference.
1 package (14-ounce) firm tofu, drained and cut into 1-inch cubes
2 tablespoons fresh lime juice
1 teaspoon ground turmeric
¼ teaspoon salt
⅛ teaspoon black pepper
2 teaspoons olive oil
2 cups thinly sliced onion
1 cup light coconut milk
1 to 2 tablespoons red curry paste
1 cup shelled green peas (about 1 pound unshelled) or frozen green peas, thawed
½ cup chopped yellow tomato
4 cups hot cooked long-grain rice
Place a large nonstick skillet over medium-high heat. Add tofu; cook until liquid from tofu is evaporated (about 3 minutes). Remove tofu from pan; sprinkle with lime juice, turmeric, salt, and pepper.
Heat oil in pan over medium-high heat. Add onion; sauté 5 minutes. Add tofu, and cook 7 minutes or until golden. Combine milk and curry paste; add to pan. Reduce heat, and simmer 3 minutes. Add peas and tomato; cook 2 minutes. Serve over rice.
Yield: 4 servings (serving size: 1 cup tofu mixture and 1 cup rice)
Nutritional information per serving:
CALORIES 421(23% from fat); FAT 10.6g (sat 3.1g,mono 2.9g,poly 3.1g); PROTEIN 15.5g; CHOLESTEROL 0.0mg; CALCIUM 154mg; SODIUM 344mg; FIBER 5.3g; IRON 8.7mg; CARBOHYDRATE 66.9g
MacGourmet Rating: 4 Stars