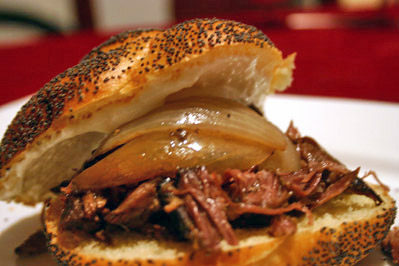 Slow-Cooker Short Rib Sandwich
This post may contain affiliate links. Thank you for supporting the brands that keep me creative in my tiny kitchen!
This recipe was really easy to throw together in the slow cooker, and it turned out to be pretty tasty. The sauce is a really nice contrast to the flavors in the meat. I love horseradish sauces. The recipe was written as calling for 4 rolls and making 6 servings, but I'm pretty sure that was a typo, so I changed it to 4 servings. After you get the fat and bones out of it, it really is more like 4. The meat falls right off of the bones and is really easy to shred after cooking for such a long time. I served the sandwiches with sweet peas and potato chips.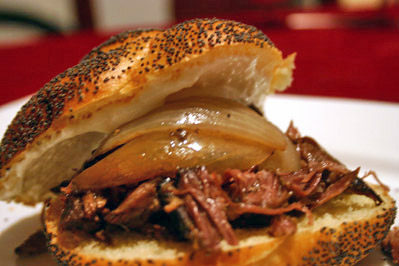 Slow-Cooker Short Rib Sandwich
Cooking Pleasures Magazine
Ribs are perfect for the slow cooker because the longer you cook them, the more tender they become.
RIBS
4 lb. beef short ribs
1 medium onion, halved, cut into wedges
1 ½ cups red wine or nonalcoholic red wine
3 cloves, garlic minced
1 tablespoon Worcestershire sauce
1 teaspoon salt
4 crusty hard rolls, split
SAUCE
¾ cup sour cream
3 tablespoons prepared horseradish
1 tablespoon sugar
¼ teaspoon salt
Place ribs in slow cooker; top with onion wedges. Combine wine, garlic, Worcestershire sauce and 1 teaspoon salt in small bowl; pour over ribs. Cover and cook on low 9 to 12 hours or until meat is very tender and falls away from bones. Meanwhile, combine all sauce ingredients in small bowl. Cover and refrigerate.
With tongs or slotted spoon, place ribs and onions in shallow pan; remove bones and fat. Slice or pull meat apart. Moisten meat mixture with cooking juices as desired. Discard remaining cooking juices or reserve for another use. Place meat in rolls; top with sauce.
Yields: 4 sandwiches
MacGourmet Rating: 4 Stars