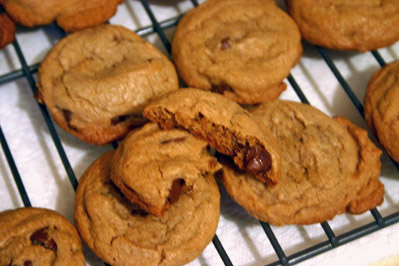 This post may contain affiliate links. Thank you for supporting the brands that keep me creative in my tiny kitchen!
I saw this recipe in a thread on the CLBB about recipes that are so good that you stopped looking for more. It said that the cornstarch made the cookies crisp yet chewy, and I thought that sounded like the perfect chocolate chip cookie, so I had to give them a try. I'm glad I did! They're fantastic! I couldn't resist trying them right out of the oven.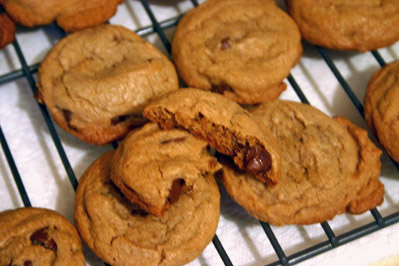 Chocolate Chip Cookies
Sugar
¾ cup unsalted butter, softened
1 cup brown sugar
¼ cup granulated sugar
1 egg
2 teaspoons vanilla extract
2 cups all purpose flour
2 teaspoons cornstarch
1 teaspoon baking soda
½ teaspoon salt
8 ounces bittersweet chocolate, cut into chunks (or chips)
1.Preheat oven to 350 F.
2.Cream together butter and sugars until smooth. Add egg and vanilla and blend in.
3.Stir in flour, cornstarch, baking soda and salt. Stir in chocolate chunks.
4.Drop by tablespoons onto a greased baking sheet and bake for 8-10 minutes, until golden brown around the edges.
5.Let cool slightly and enjoy.
MacGourmet Rating: 5 Stars