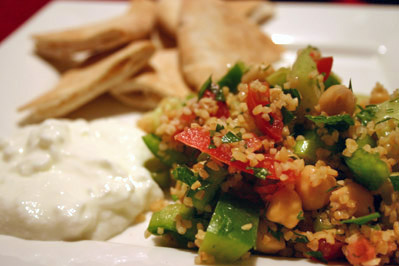 This post may contain affiliate links. Thank you for supporting the brands that keep me creative in my tiny kitchen!
I put this together on Tuesday night so that it would be ready on Wednesday. It was really great to get home and have dinner ready to go! It was a really refreshing and light meal, and it was very flavorful!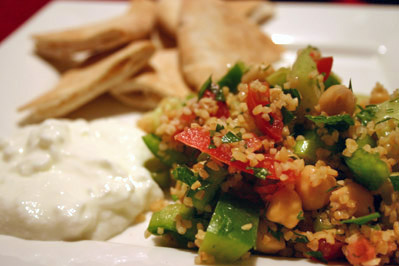 Kisir
Cooking Light March 2007
Kisir is a Turkish version of tabbouleh, with familiar ingredients and more spice. We've added chickpeas for extra protein. Increase the hot chile paste with garlic to suit your taste. It's an ideal make-ahead, no-cook meal–simply assemble and refrigerate up to two days in advance to soften the bulgur. This salad is great on its own as a one-dish supper, wrapped in lettuce or cabbage leaves, or as a sandwich filling for pita pockets.
1 1/4 cups uncooked bulgur
1/2 cup fresh lemon juice (about 3 lemons)
1/4 cup hot water
1 tablespoon extravirgin olive oil
1 teaspoon chile paste with garlic (such as sambal oelek)
1/2 teaspoon salt, divided
1/2 cup chopped green onions
1 cup chopped plum tomato (about 3 tomatoes)
1 cup chopped seeded peeled cucumber
2 tablespoons chopped fresh mint
2 tablespoons chopped fresh parsley
1 tablespoon chopped fresh dill
1 cup chopped green bell pepper
1 (15 1/2-ounce) can chickpeas (garbanzo beans), rinsed and drained
Place bulgur in a large bowl.
Combine juice, 1/4 cup hot water, olive oil, chile paste, and 1/4 teaspoon salt; drizzle over bulgur, stirring to combine. Sprinkle green onions evenly over bulgur mixture; layer chopped tomato and cucumber over onions. Sprinkle with remaining 1/4 teaspoon salt, mint, parsley, and dill; top with bell pepper and chickpeas. Cover and chill 24 to 48 hours. Toss gently before serving.
Yield: 4 servings (serving size: about 2 cups)
NUTRITION PER SERVING
CALORIES 269(17% from fat); FAT 5.2g (sat 0.5g,mono 3.3g,poly 0.9g); PROTEIN 9.8g; CHOLESTEROL 0.0mg; CALCIUM 67mg; SODIUM 386mg; FIBER 12.5g; IRON 2.7mg; CARBOHYDRATE 50.4g
MacGourmet Rating: 4 Stars