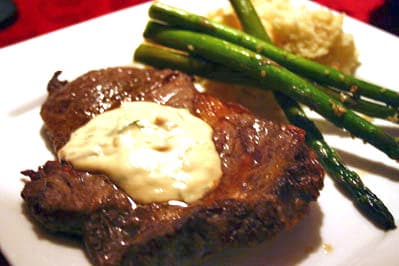 Sylvia's Soulful Seasoned Steaks | Vanishing Oatmeal Raisin Cookies
This post may contain affiliate links. Thank you for supporting the brands that keep me creative in my tiny kitchen!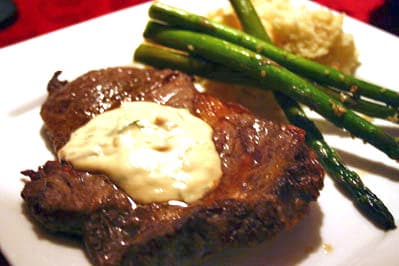 Saturday night was the first time I could eat anything solid for over a week, so we decided to make steaks on Sunday. We broiled them with a little of Sylvia's Soulful Seasoned Salt and olive oil on them, and then made a dipping sauce for it that we love. It's basically equal parts mayo and horseradish with some dill sprinkled in it. The difference this time was that we had fresh dill (dried is great in this) and we used some garlic mayo that a friend brought back from Japan for us. We had it with some mashed potatoes and asparagus that was sauteéd with a little teriyaki and sesame seeds. It was a great meal, and I'm glad I'll be back on the ball with cooking and EATING again now!!
Then, for dessert, I decided to make some oatmeal cookies. I used the recipe off of the lid of the Quaker Oats, and they were great! It'll definitely be a surprise when Dino brings in a bunch of cookies to the office tomorrow!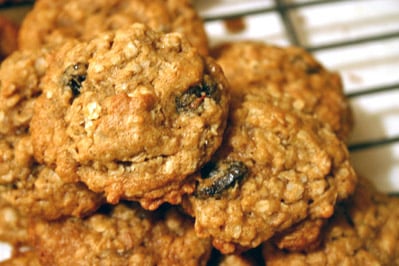 Vanishing Oatmeal Raisin Cookies
Quaker Oats
½ lb. (2 sticks) margarine or butter, softened
1 cup firmly packed brown sugar
½ cup granulated sugar
2 eggs
1 teaspoon vanilla
1-½ cups all-purpose flour
1 teaspoon baking soda
1 teaspoon ground cinnamon
½ teaspoon salt (optional)
3 cups Quaker® Oats (quick or old fashioned, uncooked)
1 cup raisins
1. Heat oven to 350°F. In large bowl, beat margarine and sugars until creamy. Add eggs and vanilla; beat well. Add combined flour, baking soda, cinnamon and salt; mix well. Add oats and raisins; mix well.
2. Drop dough by rounded tablespoonfuls onto ungreased cookie sheets.
3. Bake 10 to 12 minutes or until light golden brown. Cool 1 minute on cookie sheets; remove to wire rack. Cool completely. Store tightly covered.
Servings: ABOUT 4 DOZEN
Variations:
Bar Cookies: Press dough onto bottom of ungreased 13 x 9-inch baking pan. Bake 30 to 35 minutes or until light golden brown. Cool completely in pan on wire rack. Cut into bars. Store tightly covered,24 BARS
VARIATIONS: Stir in 1 cup chopped nuts. Substitute 1 cup semisweet chocolate chips or candy-coated chocolate pieces for raisins; omit cinnamon. Substitute 1 cup diced dried mixed fruit.
HIGH ALTITUDE ADJUSTMENT: Increase flour to 1-3/4 cups and bake as directed.
MacGourmet Rating: 5 Stars