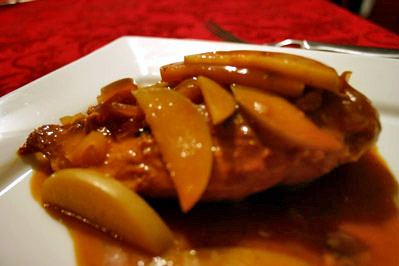 Slow-Cooker Chicken and Apples
This post may contain affiliate links. Thank you for supporting the brands that keep me creative in my tiny kitchen!
So I made this over a week ago now, but I couldn't even eat it because I was having killer jaw pain. I ended up not eating much for about a week other than smoothies (thanks, Dino!) and had oral surgery and was on lots of meds. Anyway, I guess I didn't miss out on this meal, because Dino said it tasted like baby food and threw it out after he managed to eat a plate of it. I'm not sure what the original source is for this, and I definitely won't make it again.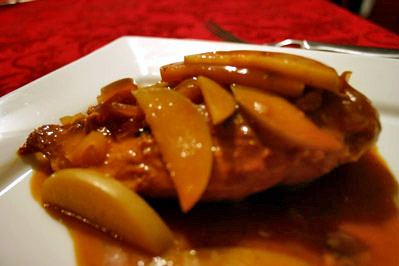 Slow-Cooker Chicken and Apples
6 oz. can frozen orange juice concentrate, thawed
1/2 tsp. dried marjoram leaves
1/8 tsp. ground nutmeg
2 garlic cloves, minced
1 onion, chopped
6 boneless skinless chicken breasts
3 Granny smith apples, cored and sliced
1/4 cup water
2 Tbsp. cornstarch
PREPARATION:
In small bowl, combine thawed orange juice concentrate (do not use regular orange juice!), marjoram, and nutmeg.
Place onions and garlic in bottom of 3-4 quart slow cooker.
Dip each chicken breast into the orange mixture to coat and place in slow cooker over onions.
Pour any remaining orange juice mixture over the chicken.
Cover and cook on low for 6-7 hours until chicken is almost cooked.
Add apples and cook one hour longer on low until apples are tender and chicken is thoroughly cooked.
Mix together water and cornstarch in a small bowl and stir into the juices in saucepan. Cover and cook on high heat, stirring occasionally, until sauce is thick and bubbly, 20-30 minutes.
Serve the sauce over the chicken and apples. Makes 6 servings.
MacGourmet Rating: 1 Star