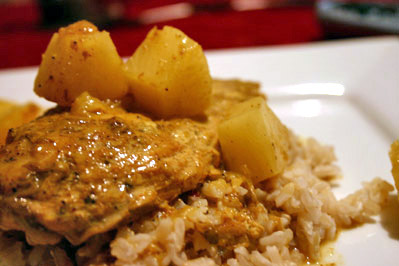 Curried Island Chicken | Roasted Cauliflower in Lemon-Tahini Sauce
This post may contain affiliate links. Thank you for supporting the brands that keep me creative in my tiny kitchen!
Tonight, we had another pretty good dish come out of the slow cooker. I used chicken broth instead of bouillon. The only thing that bothered me is the part where adding cornstarch with water and turning it up to high to "thicken" the sauce. The slow cooker doesn't get hot enough to do this. I've had several recipes call for this step, and it never works for me. It works if it's a sauce on the stove, but not in the slow cooker. I'd probably skip this part in the future. I served it on top of brown rice.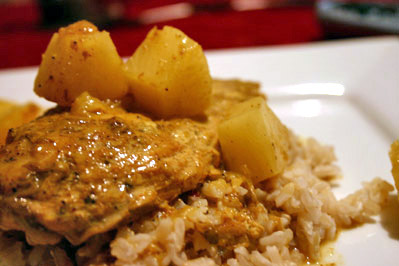 Curried Island Chicken
Crockery Cookery – Mable Hoffman
Serving Size : 5
5 chicken breast, no skin, no bone, R-T-C
8 ounces pineapple chunks in light syrup
4 teaspoons curry powder
1 clove garlic — crushed
1 teaspoon chicken bouillon granules
1 tablespoon grated onion
1/2 teaspoon salt
1/8 teaspoon pepper
2 tablespoons cornstarch
2 tablespoons water
Place chicken in a slow cooker. Drain pineapple ans reserve juice and chunks separately.
In a small bowl, combine reserved juice with curry powder, garlic, bouillon granules, onion, salt and pepper.
Pour mixture over chicken. Cover and cook on LOW 4 1/2 to 5 hours or until chicken is tender.
Remove chicken from pot and keep warm.
Turn control to HIGH. In a small bowl, dissolve cornstarch in water; stir cornstarch mixture and reserved pineapple chunks into slow cooker.
Cover and cook on HIGH 15 to 20 minutes.
Serve chicken and sauce over cooked rice.
Nutritional information per serving:
Per Serving (excluding unknown items): 323 Calories; 6g Fat (18.7% Calories from fat); 53g Protein; 10g Carbohydrate; 1g Dietary Fiber; 144mg Cholesterol; 415mg Sodium. Exchanges: 1/2 Grain(Starch); 7 1/2 Lean Meat; 0 Vegetable; 1/2 Fruit; 0 Fat.
MacGourmet Rating: 4 Stars
Tonight's side dish is Joe from Culinary in the Desert's adaptation of a recipe from a magazine. It was REALLY good. I've never roasted cauliflower before, and it really combined a lot of great flavors into something unusual and delicious for a side dish.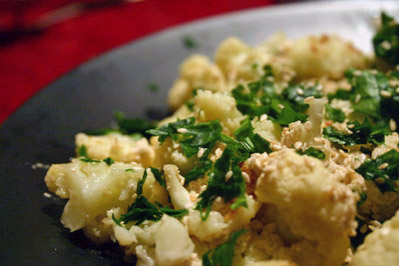 Roasted Cauliflower in Lemon-Tahini Sauce
Adapted from Vegetarian Times
1 large head of cauliflower, cut into small florets
1 tablespoon plus 1 teaspoon olive oil, divided
3/4 teaspoon salt, divided
2 cloves garlic, minced
5 tablespoons water
2 tablespoons tahini
1 tablespoon lemon juice
1 tablespoon chopped fresh parsley
1 teaspoon toasted sesame seeds
Preheat oven to 425
In a large bowl, mix cauliflower with 2 teaspoons olive oil and 1/2 teaspoon salt. Place in an even layer on a large baking sheet coated with nonstick spray. Bake until tender, about 12-15 minutes.
In a small saucepan, heat remaining 2 teaspoons oil over medium. Add garlic and cook until fragrant – about 2 minutes. Mix in water, tahini, lemon juice and remaining 1/4 teaspoon salt. Simmer for 1-2 minutes and then remove from the heat.
Evenly divide cauliflower between 4 plates. Whisk together the sauce again and then evenly pour over each serving. Scatter each with parsley and sesame seeds.
MacGourmet Rating: 5 Stars