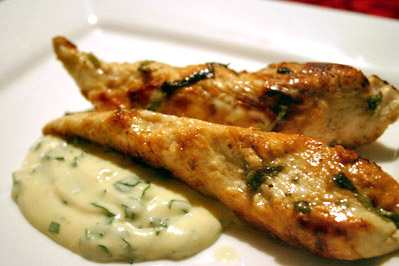 Lemon-Basil Chicken with Basil Aioli | Pistachio & Rose Water Oranges
This post may contain affiliate links. Thank you for supporting the brands that keep me creative in my tiny kitchen!
Tonight's main course was a bit too potent. I think maybe this would be good if the chicken wasn't so seasoned. Maybe just a simple grilled chicken breast that had seasoned salt served with the aioli. Anyway, it wasn't terrible, but just not that great.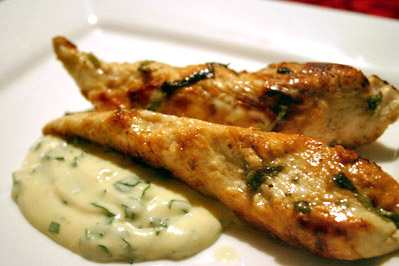 Lemon-basil Chicken with Basil Aioli
Cooking Light
Serving Size: 4
Ingredients:
Chicken:
1/2 cup chopped fresh basil
1/3 cup chopped green onions
2 tablespoons fresh lemon juice
2 tablespoons white wine vinegar
1/2 teaspoon lemon pepper
1/4 teaspoon freshly ground black pepper
4 (6-ounce) skinless, boneless chicken breast halves
Cooking spray
Basil Aioli:
1/4 cup finely chopped fresh basil
2 tablespoons low-fat mayonnaise
1 tablespoon fresh lemon juice
1 1/2 teaspoons Dijon mustard
3/4 teaspoon bottled minced garlic
1/2 teaspoon olive oil
Directions:
To prepare chicken, combine first 6 ingredients in a large bowl. Add chicken to basil mixture, turning to coat.
Heat a large nonstick skillet over medium-high heat. Coat pan with cooking spray. Add chicken to pan; cook 8 minutes on each side or until done.
While chicken cooks, prepare aioli. Combine 1/4 cup basil and remaining ingredients in a small bowl, stirring with a whisk. Serve with chicken.
Notes: Egg noodles are a good accompaniment for the fresh lemon and basil flavors of this entrée. This dish also makes delicious sandwiches, using the chicken as filling and the aioli as spread.
Nutritional Information:
CALORIES 284(32% from fat); FAT 10.3g (sat 1.7g,mono 1.4g,poly 0.6g); PROTEIN 40.1g; CHOLESTEROL 106mg; CALCIUM 51mg; SODIUM 410mg; FIBER 1g; IRON 1.9mg; CARBOHYDRATE 6.1g
MacGourmet Rating: 3 Stars
The dessert that I made, on the other hand, was fantastic! I was going through a cookbook that I used earlier this week, and found a recipe calling for rose water, which I've only used in tea until now. This was a simple and elegant dessert, and very refreshing.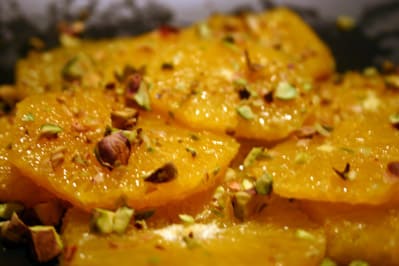 Pistachio and Rose Water Oranges
Best Ever Three & Four Ingredient Cookbook – Jenny White & Joanna Farrow
4 large oranges
2 tablespoons rose water
2 tablespoons pistachio nuts, shelled and roughly chopped
This light and citrusy dessert is perfect to serve after a heavy main course, such as a hearty meat stew or a leg of roast lamb. Combining these three favourite Middle Eastern ingredients, it is delightfully fragrant and refreshing. If you don't have pistachio nuts, use hazelnuts instead.
Four servings
1. Slice the top and bottom off one of the oranges to expose the flesh. Using a small serrated knife, slice down between the pith and the flesh, working around the orange, to remove all the peel and pith. Slice the orange into six rounds, reserving any juice. Repeat with the remaining oranges.
2. Arrange the orange rounds on a serving dish. Mix the reserved juice with the rose water and drizzle over the oranges. Cover the dish with clear film (plastic wrap) and chill for about 30 minutes. Sprinkle the chopped pistachio nuts over the oranges to serve.
MacGourmet Rating: 5 Stars